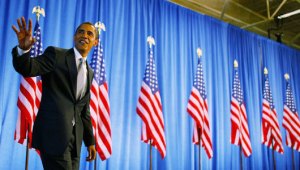 LAKE WORTH, Fla.—At a panel discussion about the economy on Oct. 21, Democratic governors from swing states, a captain of industry and a former Fed chairman flanked Barack Obama behind a desk with a sign that said "Growing American Jobs."
They shared their ideas on taxes, energy and housing with him, and more than one of the panelists at the event, which was held in an overheated gym, told Mr. Obama they needed a "partner in the White House."
Mr. Obama and his advisers are already thinking along those lines.
With exactly two weeks left before the election, Mr. Obama is campaigning in swing states and Republican strongholds in an effort to put the election out of John McCain's reach. But his campaign has also begun laying the groundwork for governing.
"They ask constantly what you need in Washington, D.C., what kind of a different partner do you need as a state?" Governor Bill Ritter of Colorado told The Observer after the event. Asked if the Obama campaign was taking the preliminary steps of governing, he said, "I absolutely believe so."
"We need some federal assistance here," Governor Ted Strickland of Ohio pleaded with Mr. Obama on the panel, adding, "We are hurting, Senator, we are hurting. If Congress goes back into session before the end of the year, I hope that you and others can get states some of the help they need."
And Governor Bill Richardson of New Mexico pitched Mr. Obama a "tax incentive for any entity or company that pays over the prevailing wage." Mr. Obama nodded meaningfully.
The election, of course, isn't over. But even Democrats chastened by close but ultimately unsuccessful brushes with victory think this election is pretty much a done deal.
"There could be a colossal mistake, but short of that, I think we know who the next president is going to be," said Bob Shrum, a Democratic strategist who ran John Kerry's campaign in 2004. Mr. Shrum said that Mr. Obama's efforts to act presidential, as in the panel discussion with governors on Tuesday morning, was not a sign of presumptuousness, but another carefully considered campaign event to help him win. Still, Mr. Shrum said, the campaign was definitely already well on its way to developing a governing agenda.
"The transition is also a process in which you make very big and important policy choices," he said. "And I think they are doing that."
Not surprisingly, Mr. Obama's top advisers were eager to push back against any notion that the candidate was getting ahead of himself.
But senior campaign strategist David Axelrod did explain that the campaign had already started reaching out to governors to help set a national policy agenda.
"We've got a transition process going on, just as McCain has a transition process going on, and we will be prepared on the fifth of November to set things in motion if we're successful," said Mr. Axelrod.
When asked if the campaign was working to draft policies for an eventual Obama administration, he said, "There is a parallel process that is dealing solely with those issues."
That apparently includes sounding out governors around the country to start developing a national policy agenda.
"Your assumption is that the transition people are not talking to them," he said. "The conversations that need to be had are being had. But our focus is on winning the election."