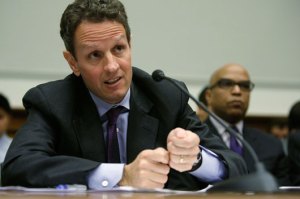 Barack Obama promised change. And New York's elite Democratic policy experts and political donors, at least, are going to get it.
"I don't think it's going to be a heavy New York administration like the last time," said one prominent New York donor, referring to the prospect of an Obama presidency. "It's a new world."
To an extent, the fortunes of New York's would-be appointees to prestigious federal positions rose and, eventually, sunk with the candidacy of Hillary Clinton, with attention and influence shifting to power players in Washington, D.C., and Chicago.
But New York won't be shut out entirely. Because of the city's status (even if somewhat diminished) as the country's financial capital, its hedge funds and banks will provide a number of names for top economic jobs in an Obama administration.
According to several Democratic insiders based in New York, Timothy Geithner, the president of the Federal Reserve Bank of New York, comes up frequently in discussions of possible appointees.  
Mr. Obama also receives the advice of former Treasury secretaries Robert Rubin and Lawrence Summers. To the extent that they want to go back into government, the door is presumably open to them.
(Mr. Summers has relayed advice to Mr. Obama directly or through the campaign's economic adviser, Jason Furman, another New Yorker likely to get some sort of job offer from an Obama administration.)
The stock of Jamie Dimon, chairman and CEO of JPMorgan Chase & Co, who has successfully avoided the shoals of the financial crisis, has risen as well.
Another choice that some donors have discussed as a potential Treasury secretary is Governor Jon Corzine of New Jersey, who was the CEO of Goldman Sachs before Hank Paulson, the current Treasury secretary, staged a coup and replaced him. Since Mrs. Clinton dropped out of the race, Mr. Corzine has been especially enthusiastic and influential in bringing around New Jersey support.
Some less immediately recognizable New Yorkers are also in a position to be players in an Obama administration.
Chief among them is Michael Froman, a top executive at Citigroup, who served as Mr. Rubin's chief of staff at Treasury, and who is playing a key role in the transition process. A Harvard classmate of Mr. Obama, he is extremely close to the candidate, and the feeling is that if he wants to play a significant role in government, he'll have the opportunity to do so.
Other New Yorkers who are helping with transition and might play a role in the new administration are Jamie Rubin, the son of the former Treasury secretary, and an accomplished investor in his own right; Jeh Johnson, an attorney at Paul, Weiss, Rifkind, Wharton & Garrison LLP and a former general counsel of the Department of the Air Force; Josh Steiner, the founder and managing principal of New York City-based private investment firm Quadrangle Group and a onetime chief of staff at Treasury; Josh Gotbaum, the former chief executive of the September 11 Fund who has worked for the Carter and Clinton administrations and Lazard Frères; Seth Harris, a faculty member of the New York Law School and a former counselor to the secretary of Labor in the Clinton administration; and Kevin Thurm, an executive at Citigroup, former Rhodes scholar and a former deputy secretary and chief operation officer of the U.S. Department of Health and Human Services.
Among the New York-area fund-raisers who bucked the Clinton trend and provided early support for Mr. Obama, several are likely to have a line into an Obama White House.