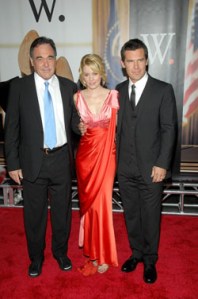 As the Daily Transom walked up 54th Street towards the Ziegfeld Theater Tuesday evening, we silently congratulated the PR firm handling the premiere of Oliver Stone's W. on the little spectacle they'd created for our benefit–the rows of black SUVs lining the sidewalk, the suited "Secret Service" officers, the "snipers" installed on the roof of the neighboring building. Taking our place among the waiting press, we noticed an enterprising television anchor showing off something he had captured on his digital camera. "Bristol Palin," he was saying. "I got her on tape–she was just walking around!"
In a coincidence–one that will surely get someone fired and someone promoted–the McCain and Palin families were in New York for a fundraiser and the final debate and had been installed at the Hilton directly across the street from the entrance to the theater. Their motorcades took off right as the actors began to arrive. From her car, the reliably well-programmed Cindy McCain smiled broadly and waved goodbye to the assembled press–not to mention massive posters of Josh Brolin posing as George W. Bush that lined the red carpet. 
Asked how Mr. McCain might react to the film, were he invited to cross the street and see it, the actor Michael Gaston said, "John McCain doesn't seem to have a lot of love for George Bush, so I don't think he'd have trouble with it." Mr. Gaston, who plays General Tommy Franks, went above and beyond the requisite watching of videos and reading of biographies to preapre for his role: "When I found out he smokes two to three packs of cigarettes a day and drank 14 to 16 cups of coffee a day, I tired to do that for every scene… It turned me green and I nearly threw up half a dozen times." Additionally, he "sent [Franks] a couple emails to let him know what I was doing. I told him I'd be willing to come down and chat with him if he had time. I never heard back," he said. "He's a busy guy."
Perhaps hinting at the the nature of his portrayal of Dick Cheney, Richard Dreyfuss told us he felt that it "wouldn't have been appropriate or graceful" to attempt to contact the vice president. If he could play any Democrat, who would it be? "Wayne Morse," he said, referring to the famously independent senator from Oregon. "His last public statement was something like, 'If President Nixon thinks he's in trouble now, just wait 'til I get back to Washington and I'll see him in jail!'"
We also asked Mr. Brolin to imagine his ideal Democratic role: "Barack Obama" he said. Why? "Oh, because I think it'd be weird!" And what did Mr. Brolin appreciate about the current president? "I appreciated his conviction and steel will, I really did. I didn't appreciate his inability to reassess it." 
Elizabeth Banks, who plays Laura Bush, discussed the challenges of playing the notoriously controlled First Lady. Besides reading and watching biographies, she spent a lot of time on Mrs. Bush's personal website, which she insisted was "pretty fun." Other than that, "It was just listening a lot. Just trying to listen for those moments of candor in interviews, because she's very scripted. She's very good at keeping her public persona separate from her private one and I wasn't interested in her public one, because we all get that."
We wondered if Ms. Banks had gotten a chance to look at Curtis Sittenfeld's latest novel, American Wife, which is based on the life of Mrs. Bush. "I'm about 40 pages in…Again, it's fictionalized. We fictionalized a lot in this movie–it's not a documentary. We're never really going to know, we're never really going to have a camera in that kitchen. Personally, I think American Wife is more about women in general, what we give up for our husbands and the wealthy and powerful men in our lives." 
Finally, we spoke with Mr. Stone, who joked about the McCain camp's attempt to steal his film's spotlight. What did he hope people would get out of the project? "That you feel for the guy, that you understand what he went through. And, conversely, you understand what we went through as a result."
We also asked him if, after all the research he'd conducted for the film, there were any questions he still had for his subject. "George is a different kind of creature than I am," he said. "We're both from the same generation, we both went to the same college, but he's not a guy like me. He's not a guy who's going to ask 'why?' He's going to say, 'why not?' He thinks differently–he doesn't examine his life. Like him, I've made some mistakes, but at least I have some doubts."