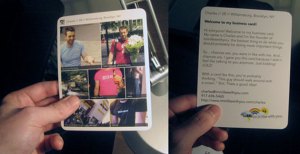 Tim Armstrong, Google's president of sales and crusader for their possible search ad deal with Yahoo, was having a cocktail at the W Hotel at Lexington and 50th Street last night for the Silicon Alley 100. But he wasn't exactly sure why he was there.
A couple hundred of the city's tech stars, from Facebook reps to the heads of tiny start-ups, were munching on mini lobster burgers and chicken paella in little tortilla spoons while slurping mango mint mojitos. Most were on the recently released list of New York's digital A-listers. "There's a list?" asked Mr. Armstrong, a tall, dark, dashing guy with slicked-back hair and a sharp suit. "What kind of list? Is it a good one to be on? 'Cause I've been on a lot of 'em."
This particular list was The Silicon Alley 100, the yearly roll call of the top movers and shakers in New York's tech community decided upon by Silicon Alley Insider. The digital business news site and the Founders Club, which throws swanky, invitation-only cocktail parties for the CEOs of digital start-ups and the financiers who fund them, brought together all the tech superstars to drink up and celebrate.
Whether he knew it or not, Mr. Armstrong was listed as No. 7, under Ken Lerer, new-media investor and co-founder of the Huffington Post, and above Bob Pittman, the former AOL guru who bought DailyCandy in 2003 for $3 million and sold it to Comcast in July for $125 million.
Jason Liebman, a bespectacled, wiry guy standing next to Mr. Armstrong, tried to explain to him what the party was all about. "It's definitely a good list to be on. You're probably one of the most important guys here!" he gushed. Mr. Leibman is also a Google comrade who worked at the company for four years on their YouTube, Google Video and AdSense teams. Now he's the CEO of Howcast, a site that produces and distributes how-to videos on the Web. He said parties like this allow New York's tech people to come out from behind their desks, iPhones, BlackBerries and Google Android phones to "pop our heads up a little bit." Mr. Liebman did not make the list.
Gawker's Nick Denton (No. 3) was there along with Curbed Network's Lockhart Steele (No. 33). Venture capitalists from RRE, Bain Capital and others were there, too, along with angel investors like Roger Ehrenberg (No. 86) and NYC Seed's Owen Davis (No. 76). Gary Vaynerchuk of Wine Library TV (No. 60) was sipping on some vino and David Kidder, CEO of Clickable (No. 47), was around, too. New York's young'uns, including Tumblr's David Karp (No. 80); Jordan Goldman of college review site Unigo (No. 91), who was profiled in The New York Times Magazine; and party boy Charles Forman, founder of iminlikewithyou.com and Gawker's person of interest (No. 97), were also seen mingling.
Drop.io's Sam Lessin didn't make the list, but was named as an "Up and Comer." He was settling a debate with Path101 CEO Charlie O'Donnell (No. 61) that they recently had in the comments section of Mr. O'Donnell's blog: "When we both started using dot dot dot (…) to illustrate our points, I think we were both getting angry," Mr. Lessin said.
Mr. Lessin gave us an update on drop.io, which will soon go hardware-free by joining the Amazon Cloud and will be redesigned. He also said he's working with Condé Nast to set up some private online space for them. And about all that Camp Cyprus controversy, in which he and a few of his young tech star friends and a reporter for The Wall Street Journal got a bit too much flak for making a video of themselves singing Journey's "Don't Stop Believin'" at his dad's lavish home while the financial markets tumbled? "I learned so much from that about the power and movement of how things make it through the blogs." So, it was a learning experience.
One venture capitalist told me: "That kid is going to make five start-ups in New York and just be so successful. A smart guy."
Another smart guy, Scott Heiferman, co-founder and CEO of Meetup.com, is No. 10 on the Silicon Alley 100, not only for making his company one of the most successful Web 2.0 start-ups in New York but for organizing the monthly Tech Meetup, which is "still the hottest digital get-together in Silicon Alley, giving startups and tech devotees a chance to get the scoop on the latest in the Alley," according to Silicon Alley Insider.
"Well, I don't want you to think I'm just eating my own dog food and organizing the Tech Meetup," Mr. Heiferman said. Certainly not. "My whole life is Meetup.com. … People need community more than ever now," he said, referring to the current financial crisis. "They're genuinely freaking out." His top user demographic? Moms! Most are looking for babysitting.
Union Square Ventures' Fred Wilson, No. 1 on the list, wasn't able to make it to the party because he was attending a family event (according to a V.C. friend). He's known to not be a fan of these types of lists and wrote on his twitter: "i don't know why bloomberg isn't #1 again. he's convinced the city to blow off term limits and let him serve again. it's FDR like." Mr. Bloomberg was the No. 1 on the Silicon Alley 100 last year.
Kevin Ryan, CEO of Alley Corp and co-founder of Silicon Alley Insider, helped choose who would be on the Silicon Alley 100 list. He said Mr. Wilson was No. 1 because "when you say venture capitalist in New York, he's the first person who comes to mind" and "he embodies the Internet. He embodies the young people. Well, not that he's young, but he is willing to try new things and new products just like a young person."
Dina Kaplan, co-founder and COO of Blip.tv, said her partner in party-planning for the Founders Club, Dan Allen of Bain Capital Ventures, brokered the deal with Mr. Ryan and Henry Blodget, Silicon Alley Insider's editor in chief, to have last night's celebration at the U.S. Open. She said the series of exclusive, floating parties (which has been hosted at the SNL studio and the IAC/InterActiveCorp building) is a way to build a better community. She wants the city off the "B-list" of tech and help the press understand that technology exists outside of Silicon Valley. It's right here in New York.
"Everyone in the room is getting drunk off the Obama Kool-Aid because they know he'll be the president who actually will empower the potential of technology," said Andrew Rasiej, founder of personaldemocracyforum.com and techPresident.com. In 2005, he ran for public advocate of New York City on a platform to bring low cost wireless Internet access to all New Yorkers. He told us last night that in his discussion with The New York Times during an endorsement meeting, it took him 45 minutes to explain to them the concept of wi-fi. "There's a lot of old hands, old money in New York," he said.
But the young ones are up and coming, for sure. At the end of the night, CNET reporter Caroline McCarthy, Mr. Karp and Mr. Forman were heading out for a Tumblr-organized Halloween party. Before he left, Mr. Forman gave us a hardy high five (and a low one for good measure) and handed us his postcard-size business card with a few snapshots of him on the front (one in which he is shirtless). On the back: "I gave you this card because I didn't feel like talking to you anymore. Just kidding! LOLZ! With a card like this, you're probably thinking, 'This guy should walk around with a crown.' Shit. That's a good idea!"