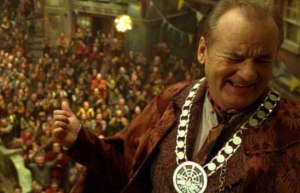 Want to avert your eyes from the stock market? Hollywood has six new releases out this weekend to numb our collective pain. Phew! The big one is Ridley Scott's actioner, Body of Lies, staring Russell Crowe (looking suspiciously like the late J.T. Walsh) and Leonardo DiCaprio (looking suspiciously like Robert De Niro in Heat). In these quarters, the buzz on Lies hasn't been kind and despite a relentless advertising push, the public doesn't seem that jacked to see it. Or maybe it's just us. Anyway, here's a handy guide to the weekend's other releases.
RocknRolla
What's the story: Guy Ritchie is back! Excited? Nah, us neither. (The Ex?-) Mr. Madonna returns to the storytelling that made him moderately famous. RocknRolla looks like Lock, Stock and Two Snatch-ing Barrels, but with a bigger cast; instead of Jason Statham, 300's Gerard Butler is the lead here. Also, Jeremy Piven shows up playing Jeremy Piven.
Who should see it: Alex Rodriguez
City of Ember
What's the story: Two kids (one played by Saorise Ronan, the prickly girl from Atonement) must save an underground city from extinction. Produced by Walden Media (the people who brought you the Narnia films), Ember features a pretty great cast, including Bill Murray, Martin Landau and Tim Robbins.
Who should see it: People who thought Martin Landau was already dead.
The Express
What's the story: An unabashed tearjerker, The Express tells the story of former Syracuse running back Ernie Davis, the first African-American to win the Heisman Trophy who, upon entrance into the NFL, was diagnosed with leukemia. Sad! Dennis Quaid co-stars.
Who should see it: Guys tired of crying at the end of Brian's Song.
Quarantine
What's the story: All that's left after a mysterious virus kills a bunch of people is a reporter's video tape of the events. Hmm. Where have we seen this before?
Who should see it: J.J. Abrams.
Happy-Go-Lucky
What's the story: Mike Leigh's latest is the story of 30-year-old woman who is really… happy. Our esteemed colleague, like others, has singled out Sally Hawkins as the main reason to see the film. As Poppy, the happy-go-lucky lead, she's bright and effervescent and lined up to be the latest British actress to clean up during Awards season. At the very least, Happy-Go-Lucky should put a smile on your face by the time you leave the theater.
Who should see it: These guys.