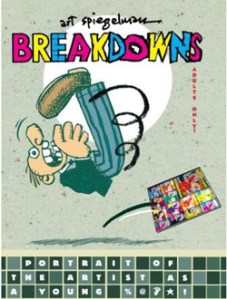 Knowing something about comics—and something about Art Spiegelman—is a prerequisite to enjoying Breakdowns (Pantheon, $27.50), a reissue of some of the artist's edgy early work, prefaced by new comics of a simultaneously autobiographical and theoretical nature ("The fetid odor of his self-absorption made me gag"), and capped off with an autobiographical and historical afterword. In short, whether or not you enjoy Breakdowns—which is in roughly equal parts provocative, funny, sad and self-indulgent—you'll learn a lot about Art Spiegelman.
My own interest in Mr. Spiegelman is mostly limited to Maus (1991), his Pulitzer Prize-winning comic book that made the Holocaust new and freshly horrible, and shlepped the horror across the Atlantic to Rego Park, Queens, where Mr. Spiegelman grew up, haunted by Auschwitz and his parents' wartime ordeal. Everything else, as the artist himself ruefully acknowledges ("No matter how much I run, I can't seem to get out of that mouse's shadow"), seems, well, overshadowed.
The early work here resurrected was originally published as a slim collection of comic strips Mr. Spiegelman drew between 1972 and '78. It includes a three-page prototype of Maus; the crushing "Prisoner on the Hell Planet" (about his mother's suicide), which was incorporated into Maus; and several other unrelated strips that reveal an artist doggedly, sometimes desperately, working out the limitations and possibilities of his medium. Propelled by a modernist's instinct to make it new, what he in fact achieved—having been shown the way by Mad magazine, circa 1955—is "postmodernism avant la lettre."
Which would be exciting if it weren't for the depressing sense hanging over the whole enterprise that Mr. Spiegelman is emptying out his desk drawers, that though he's grown more sophisticated (and, if possible, more self-aware), he hasn't found a new shtick worthy of his talent.
HAVING JUST RETURNED FROM my father's 75th birthday celebration, I'm surprised to learn that wisdom begins at 65. Has my father waxed wise these past 10 years without my noticing? Very likely—and it's because I myself am way shy of the magic number that I've failed fully to appreciate and honor the sagacity of my paternal unit.
But with the help of Andrew Zuckerman, whose huge, remarkable Wisdom (Abrams, $50) consists of photographic portraits of 50 luminaries over 65, I'm beginning to see the light. Mr. Zuckerman trains his camera on aged exemplars of unaccommodated man, close up—often very close up—no makeup, no backdrop, nothing to distract the eye from the naked presence of flesh that's endured for at least six and a half decades.
The highlights? Clint Eastwood, splashed across the cover, looks laughably well (if you ignore his neck); Robert Redford is almost unrecognizable, not so much wrinkled as corrugated; Ted Kennedy, looking healthy (which is sad), radiates trustworthiness (who knew?); Henry Kissinger is the banality of evil personified, his eyes at half-mast—you don't want to know what he's thinking; Nelson Mandela is the opposite—cuddly at 90, which is an achievement; Jacques Pépin looks happy (is eating well the best revenge?); Vanessa Redgrave will clearly never be anything other than beautiful no matter how many years she hangs around.
Did I mention that the photos are accompanied by text? Words of wisdom from the luminaries. One sample will give you the idea, Ted Kennedy saying, "Representing Massachusetts in the Senate is the greatest public honor I could have. I grew up in a family that believed in public service. …"
Ignore the text and concentrate on the extraordinary photographs. And cast your mind back: Did Willie Nelson ever look like he was under 65?