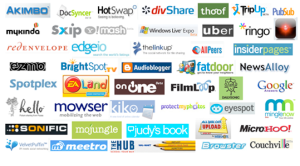 Roger Ehrenberg, a self-proclaimed "super angel" investor in tech start-ups, has seen it all. He joined Wall Street in 1987 and worked as an investment banker and managing director at Citibank. He has watched the Dow dive and skyrocket over the past two decades. He was there for the tech bubble's first bust in early 2000. But today's economic crisis? "This is way off the hook relative to any of those other events," Mr. Ehrenberg said on the 24th floor of a Park Avenue business building overlooking Grand Central on Oct. 21.
Mr. Ehrenberg, slim, in square frame-spectacles, was speaking at a discussion titled "Going to the Mattresses: Navigating Your Startup Through Uncertain Times," organized by NextNY, a social networking and events group for young techies and entrepreneurs. About 40 entrepreneurs, seed start-ups, developers, venture capitalists and angel investors huddled in the offices of Corporate Real Estate Service Advisors Partners' New York office to discuss how start-ups can survive through the biggest economic meltdown since 1929. Mr. Ehrenberg's view? "Fundamentally, we're in shitty times." But (!) "the energy, the optimism, the passion the quality of the business models I'm seeing are still very, very good." So he, as well as other veteran angel investors and small venture capitalist groups, are still going to make deals with early start-ups. But they better have a good business plan with solid ad or product revenue and spend their capital money the right way once they've got it. Or else, it's time to hunker down for a long winter.
"Whatever business you're starting is not going to be immune to what's happening," said Matt Blumberg, a technology and marketing entrepreneur and CEO of Return Path, an e-mail service company that started in 1999. "I heard a lot of CEOs last time around who said, 'Oh, no, no, no, our thing is different, and we'll be fine.' And they just got crushed. They flew their plane into the side of the mountain because they thought everything was going to be fine and people were going to pay their money and promising they'd pay their bills and it just blew up on them. … A reality check is pretty critical."
And Mr. Ehrenberg gave it to the entrepreneurs in the room. Mr. Ehrenberg left Wall Street in 2004 to become an angle investor. He currently has a portfolio of 25 companies, including Clickable, Buddy Media and Path 101, the start-up company that uses Web-based tools and surveys to help people discover new careers. Path 101's CEO, Charlie O'Donnell, organized the NextNY event and asked Mr. Ehrenberg to explain the current investment situation. Is anybody out their investing or are all the angel investors and venture capitalists holding on to their wallets until January?
Well, forget about the Wall Street guys who "dabbled" in investing. "They're scared shitless like everyone else," Mr. Ehrenberg said. "It's not fun anymore, they're viewing this as this is money down the rat hole, so they're pulling back."
"What's left is the concept of the super angel or as a quasi-VC working as a sole practitioner, kind of like me. I think the environment is awful but I'm sanguine because I've seen more business plans and more deals in the past three months than I've seen in the prior 12."
And smaller venture capitalist groups, who have about $20 million to $50 million to invest into companies, are also still willing to play ball, especially with small start-ups who won't need more than $500,000 to a million to make it work. "Certainly, they're not tossing money around, [but] they're still in business," Mr. Ehrenberg said. "They view the current environment really as an opportunity to look at a lot of deals, to really pick the best. So I don't know how comforting that is necessarily in this room, maybe the bar is higher because many more deals are finding them than they were six months ago. But they are still putting money to work."
Are the big-time venture capitalists putting their money to work? Not so much. At least, not in new deals. "The larger VCs tend to be pulling back the horns," Mr. Ehrenberg said. "They've got enormous portfolios and many of their companies haven't made money recently. And they are deeply, deeply concerned about their viability. So they are just all over their entrepreneurs to, you know, cut costs, figure out new markets. They're freaking out."
He recently watched "one of the platinum VCs on the planet" pull from a deal with a start-up during final negotiations. "Nothing changed with the deal. What changed was their risk deal, their risk tolerance. That was not pretty," he said.
But if start-ups do get the money from venture capitalists or an angel investor, they should treat them properly: write up monthly or quarterly reports just like a public company would do. It's a good idea to get three or four angels to agree to give money, so they gain confidence by investing in numbers. David Kidder, CEO of Clickable, a simple service for advertisers and agencies to create and manage online advertising, said that even in times like these, start-ups should never stop fund-raising. "Months ago, we took on a persona of paranoia and aggressiveness on costs that any good company would do," he said. And it paid off. Clickable has attracted about $23 million in venture funding from Founders Fund, Union Square Ventures, FirstMark Capital and Mr. Ehrenberg.
He said most Web 2.0 start-ups are "all satellite and no planet. You better become a planet real fast." By that, he means start-ups have to bring a service or product into the marketplace that has a "core value" and provides ad revenue.
"You have to find a way to get out of the edge, get out of the hopefulness, get out of the pathological optimism of the marketplace and get right into meaningful directional optimism," he said. No waiting around and hoping enough users will get onto your new social networking site in order to make your Web site profitable. Come up with something better and get it out there to your customer. "Get your product, whatever stage it is, into customer's hands as soon as possible. Do not wait to experiment, do not go down science project roads," Mr. Kidder added. "Rapidly experiment to find that customer. If you don't know where you customer is or how deep their pockets are, you need to be trying to rapidly, strategically quit audiences and customers that are not them. Find the persons willing to pay for your product." He advised to listen to your consumers, and not all the white noise of board members and bloggers who are distracted by the recession. If you have a good idea, your product will survive no matter what.
Mr. Blumberg also suggested transparency is key with other employees, even if it's only a three-person team. "You might think they know what's going on and you're all on the same page, but you're still the leader and they're looking for your steady hand to help them understand what's going to happen." If you need to fire someone? "Say it in the first sentence," Mr. Kidder said.
Some start-ups worried about investors checking out for the holidays and hibernating through the economic crisis until spring. It's a possibility. But, "at the same time, great businesses can be built and are built in lean times," said Mr. Blumberg. "Businesses who have to embrace the discipline that you have when capital is constrained are typically stronger than businesses that grow up in a free-spending environment."