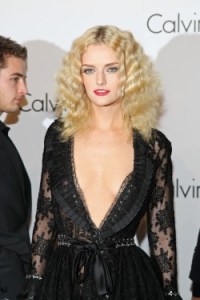 Yesterday, Lydia Hearst resigned from Page Six Magazine due to what she claimed was a fabrication that appeared in her column, The Hearst Chronicles, on Sunday.
In the column, "Blood Dispute," it seemed as though Ms. Hearst was turning on her family's empire:
Hearst Corporation, which my family owns, continues to host parties even as it folds magazines like CosmoGirl. From an objective point of view, it seems excessive. The crash in the '80s was a blip compared to what's happening now, so it's going to come as a shock when this trickles up into high society. At least Hearst recently canceled the company Christmas bash. It's time to work through this crisis, not party through it.
Yesterday afternoon, the Daily Transom received a letter from the socialite claiming that she never wrote the above statement.
I have always written my column, and as every writer I had an editor.  People at the Post have recently been posing a lot a questions about the Hearst Corporation and the recent market crash.  Hearst is a private company and I do not work for them, therefore have no comment regarding their business.  Admittedly I was alarmed to discover that items had been added to the column regarding a Christmas party and the family company upon reading "Blood Dispute" in Friday's NY Post.  It comes down to a matter of character and integrity. 
Ms. Hearst ended her letter on a polite note, writing, "This was an amicable separation."
But Ms. Hearst has not yet learned that crossing Page Six always comes with consequences. In today's Post, Page Six published an item,"Lyin' Lydia," in which the editors of Page Six (the magazine) say that Ms. Hearst did not write her column herself–it was written for her as she was interviewed by a reporter who put her thoughts into "cohesive paragraphs." (There was never an "as-told-to" credit on the page.)
The Post claims that Ms. Hearst's exact words were: "They're having events every night and shutting down magazines. I think it's excessive . . . People should focus more on work. It's a lot more important than parties at the moment."
Then when Hearst canceled their Christmas party, Page Six went back to Ms. Hearst for comment and she emailed a reply: "I do think they should cut back on events, but it is a bit sever [sic] to cut back on the Christmas party, that's like the joke in the Scrooge films where the holiday parties and bonuses are canceled."
The magazine didn't run it because it seemed "too harsh" towards her family, and they felt they had to edit it out to "protect her." But now, as the item ends on a chilly note, "With Hearst falsely accusing her editors of fabricating, she no longer deserves such protection."