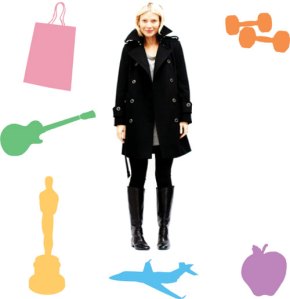 On Monday, Oct. 20, Gwyneth Paltrow was dressed for rain. The Oscar-winning actress slinked down the red carpet at the London Film Festival premiere of her new movie, Two Lovers, swaddled in a furry Felder Felder jacket with long, leather sleeves over a gothic, black Salvatore Ferragamo frock. She looked ghoulish. A reporter from The Guardian newspaper stopped her to ask about her new Web site, GOOP, which quietly debuted in late September and has since released four newsletters dispatching advice from Ms. Paltrow on food, fashion and lifestyle choices. What did the name GOOP mean?
"Well, G. P. are my initials and Goop is actually a family nickname," Ms. Paltrow said.
Did she feel qualified to offer people advice on how to live?
"Oh, I'm not qualified to give advice to anybody," chirped the wife of Coldplay singer Chris Martin and mother of two. "It's just fun and I'm enjoying it."
We are also enjoying Ms. Paltrow's little Web project, if only for the voyeuristic, presumably unfiltered peek it affords into the kitchen and closet of a woman who—thanks to her regal bearing and general air of having won life's lottery—has been both irritant and idol to New York for well over a decade.
And yet the essence of GOOP remains elusive. With its watery illustrations and personal-service content, it seems cast (aesthetically at least) in the mold of DailyCandy, the e-mail newsletter with 2.5 million mostly female subscribers that was started out of former New York editor Dany Levy's Christopher Street apartment in 2000 (bought by Bob Pittman for $3 million in 2003 and then by Comcast five years later for a mind-boggling $125 million). GOOP arrives weekly, not daily. And not dependably, either; the fact that some Observer staffers had to sign up repeatedly before receiving it sparked a frenzied paranoia that Gwynnie herself was peering through our screens, somehow able to divine who was worthy of her dispatches.
Ms. Paltrow's newsletters contain fashion advice ("Wear legging jeans (I wore these on Oprah!)"); her personal guide to London, where she spends most of her time these days ("The hotels are on the pricey side but my GOOP girls are doing some research into some more affordable prices"); and exercise tips ("Don't be lazy").
The site itself is pitched as a home of sorts for Ms. Paltrow's "collection of experiences," invoking her ongoing efforts to "make life good" and "nourish the inner aspect." Critics have responded tartly. "I feel undernourished already," wrote New York Times magazine columnist Virginia Heffernan in her The Medium blog. "I weep for our inner aspects." "Why is it called 'Goop'?" sniped one writer in Canada's Globe and Mail. "Perhaps 'Any Old Load of Rubbish' and 'Learn From Me, Ungrateful Peasant' were both taken."
THERE WAS NO press release or self-indulgent "launch" party heralding GOOP's arrival. The site was quietly plopped onto the Internet, with very little content and a muted design: The gray GOOP logo appears from a milky white background, and simple symbols denote each section of the site—"Make" "Go" "Get" "Do" "Be" and "See"—into which Ms. Paltrow will drop her nuggets of wisdom. So far, the only content that appears on each page is a short essay from Ms. Paltrow: "My life is good because I am not passive about it. I want to nourish what is real, and I want to do it without wasting time. I love to travel, to cook, to eat, to take care of my body and mind, to work hard. I love being a mother who has to overcome my bad qualities to be a good mother. I love being in spaces that are clean and feel nice."
GOOP doesn't exactly let us gawp at Gwyneth's "clean" and "nice" spaces. There are no juicy details about life with (or without) Mr. Martin, who is frequently on tour, and their two towheaded children, Apple and Moses. In her Oct. 16 newsletter, Ms. Paltrow asks some of her favorite "sages," from a cabala teacher to a New York psychologist, how to help a pessimistic friend. "I thought it would be inspiring to periodically ask a question to a group of thinkers from various traditions on the subjects that often confound me," she writes. More recently, she offered some recipes for buckwheat and banana pancakes and Asian tuna sandwiches.
And what of the star's famous style, analysis of which has long been a staple of glossy monthly magazines?
"I used to spend a lot of time looking at fashion, reading about fashion, generally being bemused by fashion," Ms. Paltrow wrote in her Oct. 9 newsletter. "Then one day I had children and it all kind of went out the window. For a few years I was basically in sweat pants and I didn't mind it." She recalled some lessons she learned from her days attending Spence, the Upper East Side private school: "As I started to get back into the world of work, I needed to wear something easy and chic that did not require a lot of planning or accessorizing. It is here that I did return to high school, but this time for a clothing concept: the uniform." Three uniforms are proposed, with Ms. Paltrow modeling Option Two: a sweater dress over leggings and a gray tank. "Add boots," she suggests. She also recommends Tod's cashmere trench ($1,995). Conveniently, Ms. Paltrow starred in the Italian luxury-leather-accessories empire's fall 2008 ad campaign, looking very Grace Kelly-like in its collection; messages left with the company's public-relations representatives seeking information about any product placement deals went unanswered.