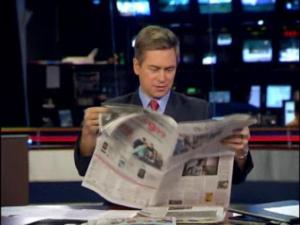 Not long ago, The New York Times rolled out its new consolidated format, in which the former Metro Section is now regularly folded into the back of the A-section under the heading "New York" and the sports coverage regularly appears at the rear of the business section, rather than in a stand-alone section.
As The Observer previously reported, the changes will likely save The Times millions of dollars a year. But the changes are not without a cost to readers. So says one of New York's top authorities on newspaper readability–namely, Pat Kiernan.
Every weekday morning, Mr. Kiernan–the popular morning anchor on Time Warner's 24-hour local news channel NY1–does an eight-minute segment, called "In the Papers," in which he laconically summarizes a handful of articles from the day's stack of newspapers.
Recently, Mr. Kiernan has been using the platform to call attention to what he feels is the inconvenience of the reformatted Times–for example, he now regularly wrangles on camera with the A-section, in a dramatic manner, as he tries to find and discuss an article from the "New York" section.
"I've kind of resolved to spend the next few weeks complaining about it, even if I have no say in the matter," Mr. Kiernan told the Media Mob on Thursday afternoon. "It's my quiet protest."
"More than anything, I just find it bulky, you know?" he added. "A 40-page section is a lot of newspaper to physically handle."
Mr. Kiernan said that he respected The Times for being "true to their word" by seemingly not cutting back on local coverage despite the reformatting. "It seems that the coverage is as substantial as it was before," said Mr. Kiernan. "But the format is neither convenient for a single reader, nor conducive to the time-honored tradition of sharing the paper."
Mr. Kiernan also said he misses the consistent color photography that used to grace the front of the former stand-alone Metro and Sports sections, and which seems to have been scaled back after the consolidations. "In black and white, it doesn't pop like it used to," he said.
"I fully recognize the downturn in advertising," added Mr. Kiernan. "I can't be overly critical or after their heads because of the economics of the decision. But it's not without a price for the readers."