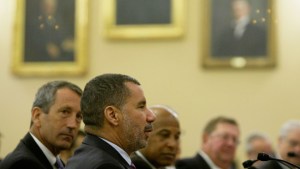 Governor David Paterson testified before the House Ways and Means Committee this morning, urging them to pass a federal bailout package that could help states like New York now facing massive deficits.
Although he did not specify a dollar amount, Paterson reiterated his assertion that New York sends billions of dollars more in tax to the federal government than it gets back in federal aide.
"The fact is, New York, in 2006, got back $61.2 billion less than we paid in taxes to the federal government," Paterson told the committee. In 2007, Paterson said that figure was $86.9 billion.
Paterson spoke as part of a panel that included South Carolina Governor Mark Sanford, a Republican, who argued against passage of the federal bailout, saying the states should take care of their own fiscal matters.
That prompted committee chairman Charles Rangel, a Democrat from New York and friend of Paterson, to ask Sanford if he'd like the federal government to limit funding for unemployment benefits or Medicaid in his state.
Sanford said no.