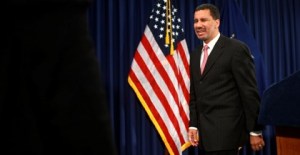 Governor David Paterson attended the Citizens Union annual dinner last night at the Waldorf Astoria to present his father, Basil, with an award from the good government group.
But C.U. may or may not have appreciated it when, during his his remarks praising the nonpartisan organization, Paterson, a lawyer, began constructing an argument for why there may be legal barriers to C.U.'s two most important goals at the moment: undoing the City Council's extension of term limits and pushing for nonpartisan redistricting of the state legislature.
Citizens Union strongly opposed the term-limits extension, which was championed by elected officials it general considers allies in the reform movement: Mayor Michael Bloomberg, City Council Speaker Christine Quinn and even Brooklyn City Councilman David Yassky. The group's executive director, Dick Dadey, dedicated the better part of his opening remarks last night to rehashing the debate, and was met with sustained applause from the audience.
Then Paterson spoke.
 "The question is not whether there should be term limits," Paterson said. The question is, he went on, "When the City Council votes, is there any other public policy that's addressed other than self-aggrandizing? That is the issue that could potentially come before the court. Then the court, at some point, has to look at whether or not legislators drawing their own districts doesn't fulfill the same purpose, and we should have widespread reform in the issue of reapportionment of legislative districts."
The crowd applauded.
But in speaking to reporters afterward, Paterson said the City Council's authority to modify the length of their own terms "would probably fall under the same legal theory" as the legislature's legal authority to redraw districts.
And he thinks both things will be found legal.
"Actually, I think if the courts do review term limits," Paterson said, "then the vote at the City Council will be sustained." When asked what that would most likely mean for redistricting, Paterson said, "Redistricting will probably be voted on by the legislature."
He then said, "I think the reason groups like Citizens Union are so important is because it's not always the law, it's the ethics."