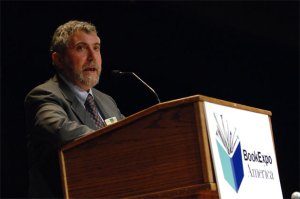 The Associated Press is reporting that New York Times columnist and Princeton University professor Paul Krugman has won the Nobel Prize in economics.
Per AP:
"What are the effects of free trade and globalization? What are the driving forces behind worldwide urbanization? Paul Krugman has formulated a new theory to answer these questions," the academy said in its citation.
"He has thereby integrated the previously disparate research fields of international trade and economic geography," it said.
Mr. Krugman's prize is 10 million kronor, or $1.4 million dollars.
On his Times-hosted blog, The Conscience of a Liberal, Mr. Krugman humbly wrote, "A funny thing happened to me this morning …"