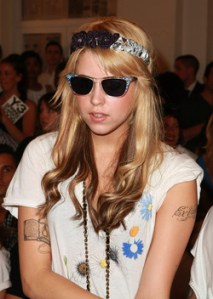 British socialite Peaches Geldof is the 19-year-old daughter of singer Bob Geldof and television personality Paula Yates. Her full name is actually Peaches Honeyblossom Michelle Charlotte Angel Vanessa Geldof. A few months ago, she became a resident of Williamsburg, Brooklyn with her husband, musician Max Drummey, whom she married in Las Vegas three months ago and whom she may already be divorcing.
And now Ms. Geldof is sharing her adjustment to married life and her experiences in her new neighborhood in a column, "British Invasion," in Nylon magazine. (Her fellow headband-wearer Cory Kennedy wrote two "Cory's Corner" columns in August 2007 for the magazine before abandoning it to do Nylon TV.)
So what does Ms. Geldof think of her new home?
"The sun glows a burned orange as it sinks behind a skyscraper, a car horn screeches irritably, the wind whistles through the acres of willows in Central Park: New York, the most offbeat and eccentric city in America, is my new home," her column begins. "I love it here. I live with my husband, Max, in Williamsburg, home of the plaid shirt and vintage Mecca Beacon's Closet."
Like a modern-day Alexis de Tocqueville, Ms. Geldof has found herself profoundly changed by these United States (though she compared her adventures thus far to those of one Jack Kerouac).
"America is a strange place, a place of contradictions, but a place that never fails to change one's world view," she writes. "I am constantly surprised by this huge country—each state tells a different tale: It's like a never-ending novel with each page more exciting and bizarre than the last."
The couple stopped in Colorado where Ms. Geldof purchased a sequined flannel shirt for a dollar from an old Mexican woman. In Iowa, she was chased by a homeless man in a Slipknot T-shirt. There was more vintage shopping in Pittsburgh and chewing tobacco in Indiana.
Now that she's back in New York, Ms. Geldof marvels at "the Upper East Side society queens are dressed to the nines in McQueen and Prada." Meanwhile, "the East Village hipsters look like extras from The Virgin Suicides or Desperately Seeking Susan." Much of her time has been spent with a young man named "Bunny," with whom she has run through Times Square, danced at The Beatrice Inn and Lit, and bought pizza from street vendor.
Ms. Geldof ends her debut column on a romantic note.
"New York is a place where I finally feel at home. Driving over the Brooklyn Bridge at night in a yellow cab (the novelty still hasn't worn off!) and gazing out over the tops of the skyscrapers-their peaks reaching ever upward, lights twinkling out of the endless windows like fireflies, their glow reflected in the water of the Hudson River—there's no place I'd rather be."
Ms. Geldof probably meant to write Williamsburg Bridge, since the Brooklyn Bridge doesn't technically lead directly to Williamsburg. And, of course, the Hudson is on the other side of Manhattan. But not to worry. Even Kerouac could have easily gotten his bridges and rivers confused.