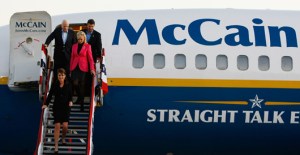 It's no accident that John McCain was in Pennsylvania on Tuesday. The state and its 21 electoral votes have become an absolute must-win for the G.O.P. nominee, now that his campaign has all but conceded Michigan, Wisconsin, Maine, New Hampshire, Iowa and Colorado to Barack Obama.
Pennsylvania is now the only blue state on the board that McCain's campaign seems serious about trying to win. Doing so would create a net swing of 42 electoral votes, which at least theoretically would make McCain competitive on election night – although even then it probably wouldn't matter, with Obama poised to pick off at least a few sizable red states.
But we've been down this road before. In each of the last four presidential elections, the G.O.P. has made noise about engineering a win in Pennsylvania, often spending considerable time and money in the state and talking about all of the working-class Reagan Democrats who were – supposedly – ripe for the picking. They have failed each time. And, with just two weeks left in the campaign, their prospects for winning the state look as bad as they have in any year since 1988.
Let's take a journey through the various Republican misadventures in Pennsylvania since 1988, the last time they carried the state (and barely at that – a 2.3 percent win for George H. W. Bush over Michael Dukakis, who won just 10 states that year).
In '92, when Pennsylvania still had 23 electoral votes, George H. W. Bush's reelection campaign viewed the state has an unusually ripe Northeast target, for several reasons. For one, the economic downturn that had jeopardized Bush wasn't as severe in the state as elsewhere. Plus, Ross Perot by late October was showing life in polls; contrary to the revisionist history that has emerged in the years since, Perot's reform/anti-incumbent appeal was seen as a net plus by Bush's '92 strategists, who (correctly) believed it would eat into Bill Clinton's share of the anti-Bush vote.
And then there was the Casey Factor: It was in the summer of '92 that Clinton refused to allow Pennsylvania's pro-life Roman Catholic governor, Robert P. Casey, to speak at the Democratic National Convention, a snub that Republicans seized upon when they held their own convention a few weeks later. Surely, the thinking went, Casey's base of working-class, socially conservative Democrats would punish the Democratic presidential nominee (sort of the way we are now told that Hillary Clinton's working-class base in Pennsylvania will refuse to back Obama on Election Day). These same voters, supposedly, were further infuriated when Clinton announced his support in late October for the North American Free Trade Agreement.
But this was all empty talk. Bush visited the state a week before Election Day to declare that "something is happening here," only to lose by nine points in the end, 45 to 36 percent. (Perot's 18 percent may be the reason Clinton's winning margin didn't hit double digits.)
In 1996, one of the most uneventful national elections of all time, Republicans again made Pennsylvania a key part of their initial strategy. Bob Dole visited the state often in the race's summer months and made sure to schedule his first public appearance after the G.O.P. convention in Pennsylvania. (He also toyed with adding then Governor Tom Ridge to his ticket, though Dole ultimately opted for Jack Kemp.)
By late October, though, it was clear the effort was going for naught, in Pennsylvania and in most other targeted states. At that point, Dole essentially conceded the state by pulling some of his resources to mount a last-ditch television campaign in California – the idea being that an upset win in a state with 54 electoral votes could offset the campaign's failures in Pennsylvania and the other states it had initially targeted.
The only surprise on Election Day '96 was that Dole managed to win 40 percent in Pennsylvania, to Clinton's 49. (The California Hail Mary didn't really do anything, with Dole losing the state 51 to 38 percent.)
In 2000, Republicans signaled their intention to contest Pennsylvania early by choosing Philadelphia as the host city for their convention. And for much of the fall campaign, the state essentially mirrored the national horse race, showing a tight contest between Al Gore and George W. Bush (although Gore narrowly led polls in the state in October, while Bush generally led narrowly at the national level).
Then came Election Day. Labor and Democratic Party leaders unleashed their turnout machines, substantially driving up turnout among blacks and union members and producing a healthy five-point victory for Gore (even as the national race ended in a dead heat). That year also marked a shift by voters in Philadelphia' affluent suburbs, who were unnerved by the increasing dominance of Southerners and religious conservatives in the national Republican Party, away from the G.O.P. Obama, of course, is expected to benefit from a similar turnout effort this year, one that should spike black participation to record-shattering levels, while McCain's organization in the state is considered feeble.
That leaves 2004, the high-water mark in the post-'88 era for the G.O.P. in Pennsylvania. Even though the state was widely seen as relatively safe for John Kerry, George W. Bush nearly pulled an upset on Election Day, losing by just 2.5 percent. But this surprising strength can be understood in the context of the national election. Bush went from losing the national popular vote in 2000 to winning it by 2.5 percent in '04 – the best showing for a Republican since George H.W. Bush in '88. This growth, partly attributable to an aggressive field operation that puts McCain's to shame, was evident in numerous states. (In fact, Bush's '00-to'04 improvement in Pennsylvania – 2.5 percent – is identical to his improvement at the national level.)
The implications of the '04 example for this year are clear: If McCain can pick up ground at the national level, his support in Pennsylvania will grow accordingly. But there are two problems with this: There is no evidence of significant momentum for McCain nationally, and just two weeks remain; and he is running significantly worse in Pennsylvania – a double-digit deficit in most polls – than nationally. It would take something seismic just to make the Pennsylvania race competitive.
If McCain's hopes really do rest on Pennsylvania, then Democrats ought to feel very good.