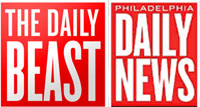 Jim Romenesko—and just about every media site possible—linked to a story by the Philadelphia Daily News' Dan Gross that says his paper's parent company has sent a cease-and-desist letter to Tina Brown and Barry Diller's nearly 200-hour-old Web site The Daily Beast, claiming that its logo is "potentially trademark-infringing" with that of the Daily News.
Mr. Gross quotes the letter (which an unnamed spokesperson for The Daily Beast says was not received) as saying the logo is: "virtually identical in shape, color, font and style to our own Daily News logo."
Apparently there's a serious risk that "our readers could easily be duped into thinking that your Web site is somehow affiliated" with the paper.
That seems unlikely because of—to quote Ms. Brown's already famous launch-day Q&A—"Sensibility, darling."