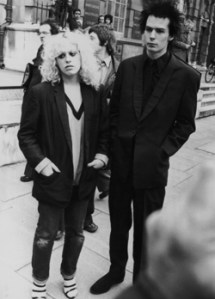 Once in awhile we happen upon a little piece of news or even just a realization about a seemingly mundane fact of life that makes us feel like we really are living in the future. For instance, 10 or 15 years ago we were probably thinking thinks like: "Wow, I bet someday everyone will be carrying around little mini-computers that double as telephones and can provide your exact coordinates on planet earth at any given time!" Or, "I hope that in my lifetime I will get to see an African American and/or a woman become president of the United States!" Or, as this little tidbit we just read about on Stereogum conjures, "Maybe one day members of high society will pay thousands of dollars to get their hands on some of this punk music I love so much!"
Well, that day has arrived, or at least it will on Nov. 24 when Christie's holds it's first major punk auction in New York City. Up for sale are "more than 120 records, photos and promotional pieces for such punk, garage rock and new wave legends as the Velvet Underground, Patti Smith, the Ramones, David Bowie, Blondie, the Cure and the Smiths." The Associated Press reports: "We understand that tastes change, tastes mature," said Christie's pop-culture chief Simeon Lipman. "Ten years ago, punk memorabilia probably wouldn't be something we'd be auctioning here. But now, people of a certain age have a certain ability to splurge on this material."
The timing couldn't be better given that it was just the 30th anniversary of the night when Sex Pistols bassist Sid Vicious probably/maybe murdered his girlfriend, Nancy Spungen, in a drug-induced haze in the Chelsea Hotel, as Karen Schoemer wrote about in her fantastic New York magazine piece last week. While there's no memorabilia up for sale from that gruesome affair, there is a bunch of Sex Pistols stuff, including a copy of the band's first press release, as well as "a rare poster for a 1976 Ramones concert in London widely credited with helping inspire such British punk titans as the Clash and the Sex Pistols and a flier for a show later that year featuring the latter two bands and the Buzzcocks…and a 1966 promotional packet in which an up-and-comer called David Jones promulgated his new last name: Bowie." Also: Late '70s Los Angeles punk flyers, Seattle punk flyers, stuff from the Germs, Black Flag, The Dead Boys, The Damned, The Misfits, DEVO, Nirvana and lots more.
The various punk items are expected to fetch between $300 and $6,000 apiece.

The items generally weren't designed to last for decades, making the few that have survived all the more tantalizing, Lipman said.

Even when the global financial meltdown is sapping a once-raging art market, "with pop-culture items, there's sort of a nostalgia that drives it. It's not necessarily a need to invest — it's 'that's cool,'" he said.
We couldn't agree more. Too bad we're broke! But if we weren't, we'd be all over one of those Smiths promo posters. The full list of items up for grabs can be found here.