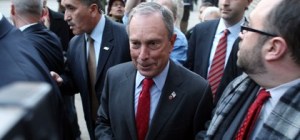 Since Michael Bloomberg has pushed his plan to run for a third term through the City Council, he has also delayed publication of his second book. But that doesn't mean there won't be a well-timed Bloomberg book hitting shelves around his next campaign.
New York Times editor and writer Joyce Purnick has been researching a biography on the mayor, called Michael Bloomberg: Mayor, Mogul, Philanthropist: The Art of Running Anything. It was previously slated to come out before Bloomberg left office on January 1, 2010.
In an email exchange last night, Purnick told me that because of this latest bend in Bloomberg's career path, the book will come out earlier.
"Well, this development has moved up the publication date. It's now slated to come out a little less than a year from now–a couple of months earlier than originally planned," she wrote in an email. "So, I have to write faster!"
An election-year biography (not written by a member of Bloomberg's news organization) may help re-imagine Bloomberg's well-crafted public image.
His first book was written with Matthew Winkler, editor-in-chief of Bloomberg News. Bloomberg's second book was to be written with Margaret Carlson, a columnist for Bloomberg News.