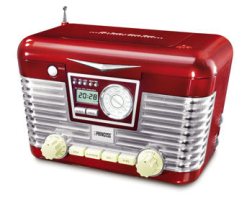 Here's two bits of counterintuitive news for your rainy Tuesday. First off, according to a new study cited in the New York Times, young adults (i.e. those between the ages of 14 and 24) are spending more quality time with their radios than they were in 2007. Though average listening time dropped by three full hours between 1998 and 2007, 54 percent of respondents to a survey conducted by Paragon Media Strategies stated that they've been listening more this year than last. Weren't iPods, Guitar Hero, and Pandora.com supposed to kill radio? Not yet. In fact, the same survey suggested the mp3 players might have already done all the damage they can do. Respondents stated that they had roughly the same number of tunes on their iPods (400) as they did in 2007, and fewer of them described the devices as cutting into their FM time.
And then there's AC/DC. Bloggers largely scoffed at the Aussie warhorses when they decided to bypass digital sales of their new album Black Ice (their first since 2000's Stiff Upper Lip) and offer it up exclusively as a CD through Wal-Mart. (Though indie stores would get exclusive rights to sell the vinyl version.) For AC/DC, consumers can have the whole album, or nothing it all, even though most casual fans know the band for their riff-heavy singles. As Angus, AC/DC's schoolboy guitarist, told the Times, "It's like an artist who does a painting. If he thinks it's a great piece of work, he protects it." Right… Picasso, AC/DC—same thing.
And yet, according to Coolfer, Black Ice has done ludicrously well since its October 20th release. Despite bypassing the most lucrative arm of the music industry (iTunes), the record is on pace to sell 800,000 copies in the U.S. alone during its first week of sales. (That's just 150,000 less that Kanye's Graduation managed during its first week last year.) It's also #1 in the UK and Australia at the moment. As Coolfer points out, AC/DC's situation is by no means typical—they have a reliable fan-base, a reliable sound, and a consistent track record of CD sales. Still, we can' help but wonder, weren't CDs supposed to be dead or dying? Wasn't the album format supposed to go the way of the dodo? Well, maybe not… that is, if the CD is priced under $12 and has an exclusive corporate marketing plan to back it up.