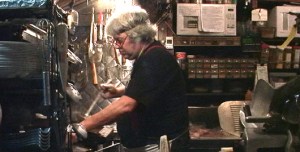 Eat Me: The Food and Philosophy of Kenny Shopsin
By Kenny Shopsin and Carolynn Carreño
Alfred A. Knopf, 260 pages, $24.95
I'm proud to say that I've never been thrown out of Shopsin's General Store. This is due primarily to the fact that I've never visited it, neither in its two hallowed West Village nooks nor in its current, humbler digs amid the multiethnic scrum of the Essex Street Market. But on a more hypothetical level, I have a gut feeling that Kenny Shopsin—founder, owner, chef and foul-mouthed philosopher—would take a shine to me.
At least, I hope to God he would. The list of those who have crossed Mr. Shopsin and suffered the consequences is long and illustrious; a request for corn chowder, hold the bacon, for instance, will not be granted, but may well get you your soda poured over your head, followed by summary ejection and lifetime banishment.
"From the beginning, I was different from your average grocer," Mr. Shopsin considerably understates near the beginning of Eat Me: The Food and Philosophy of Kenny Shopsin, his brilliant, hilarious and infuriating sociocultural manifesto masquerading as cookbook.
Mr. Shopsin does, technically, run a restaurant, in the sense that he makes food for people to eat on the premises, and in exchange they give him money. But Shopsin's has always seemed to be a personal proclamation more than anything else.
Together with his wife, Eve (who died a few years ago and to whom the book is solely and charmingly dedicated in top-of-the-eye-chart type), Mr. Shopsin started his small shop in the early 1970s, selling everything you'd expect a general store would. The difference was that he didn't believe in the American retail edict that the customer is always right; to the contrary, "until they show me that they are worth cultivating as customers, I'm not even sure I want their patronage." The feeling has not infrequently been mutual. "A lot of people get out of here real fast," Mr. Shopsin notes with pride.
THE BOOK, LIKE THE store, is an elegy to a dying New York, one where a shop owner can bathe his kids in the sink while he's making tuna salad, and tell the Health Department to fuck off when they point to the turkey sitting out on the counter all afternoon.
Which sorts of actions should not be confused with an aversion to rules. Mr. Shopsin has established lots of rules over the years, including: no copycat orders ("I don't like people who can't think for themselves"); no parties larger than four ("they don't interact with other customers"); and absolutely no substitutions (this being, perhaps, understandable in light of a menu that has contained as many as 300 soups at a time). But what if you're deathly allergic to, say, peanuts? See ya! "Go eat at a hospital," Mr. Shopsin adds helpfully.
Survive all the hazing, however, and you'll learn that Mr. Shopsin genuinely loves running his restaurant, and he welcomes people who understand the world he's trying to cultivate. That world is defined by the quality of its relationships—both among customers and between customers and staff. (This may not seem too different from small, locally owned shops all over the country, but you can't do anything quietly in New York.)
As with many highly principled people, there's a whiff of protesting too much in Mr. Shopsin's worldview. It's not about "us" and "them," he insists, but of course it's all about that—he says he can tell whether a new patron is going to "work out" the moment he or she enters the store.
OH, YES: THERE ARE recipes, too. A lot of them, all straightforward and without pretense. Some, like mac 'n' cheese pancakes, look really good. Instructions are along the lines of what you might expect. ("If you like your eggs more cooked, cook them more.") But Eat Me isn't about the recipes, which are just a conduit to get you from one Shopsin treatise to the next.
Those treatises are wonderfully written, though in that regard they're jarring. Carolyn Carreño, who receives a co-author credit, presumably took Mr. Shopsin's words from interviews and his own writings and then knitted it all together. While the result is highly readable, it's at odds with Mr. Shopsin's righteous bombast. It feels too clean and reasonable, as though someone had stuffed Mr. Shopsin into a nice new suit and combed his hair. There's something disconcerting about calm, measured sentences from a guy who describes looking up the skirts of the "young girls" leaning over to scoop ice cream, or who says things such as "Bacon pancakes and bacon french toast both remind me of pussy." You feel as though the book should arrive already spattered in grease and guacamole.
Mr. Shopsin says that the process of putting his book together was similar to raising children, which he says "allows you to go through your life a second time." It's a touching observation, and it's clear that despite the financial difficulties that have plagued Mr. Shopsin and his store from the beginning (hence the multiple moves), his children are all devoted to him, to the shop and to the philosophy that guides it all. He writes without bitterness, "Shopsin's has never been about making money. It is our lives."
As for the book, Eat Me is probably the safest way to understand and appreciate Kenny Shopsin: At least he can't kick you out in the middle.
Jesse Wegman is managing editor of The Observer. He can be reached at jwegman@observer.com.