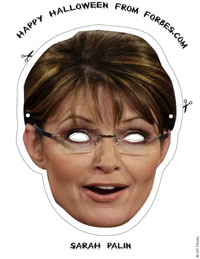 Writing in The New York Times' Caucus blog last night (and in print today), Magdelina Sharpe reports on the Governor Sarah Palin costume bubble which appears to be bursting.
According to Ms. Sharpe:
Ms. Palin, the governor of Alaska and Republican vice-presidential nominee, is turning out to be one of the most popular costume figures this Halloween season — and not just for women. And while a $22.99 "Miss Alaska" kit, consisting of a pageant sash (Miss Alaska on one side, Miss Vice-President on the other) and eyeglasses, is a hot item at Ricky's Halloween Costume Superstore in Manhattan — they say they have sold at least 600 in three weeks — many people are saying they prefer to do it themselves.
If you want to save some money, Forbes.com is offering free Sarah Palin masks along with other print-and-cut masks of the such zeitgeisty figures as Amy Winehouse, Time Out New York dating columnist Julia Allison, and Rick Astley so you can rickroll your friends in person. (Sadly, no bilingual Trebecking masks.)
While on the topic, Forbes.com's Halloween Masks are an interesting snapshot of jokes that won't be funny in a year. 2007's free printable mask gallery included Larry Craig, Michael Vick, and Phil Spector. 2006's featured Mark Foley, Borat, and LonelyGirl 15.
Maybe you can repurpose those this year and say you're a Ghost of Jay Leno Monologues Past.