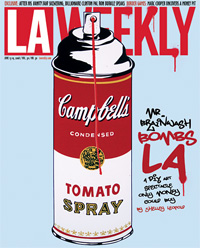 Somehow amid the ongoing horror show of layoff season, we missed the news that The LA Weekly, which is owned by Village Voice Media, let go several staffers yesterday.
LAObserved's Kevin Roderick offered some details:
Sources at and around the LA Weekly confirmed that last night's staff cuts include long-time editor and columnist Marc Cooper, managing editor Sharan Street and copy chief David Caplan — three senior newsroom positions — as well as staff writer Matthew Fleischer, senior designer Laura Steele and assistant to the editor Pandora Young.
Mr. Roderick goes on to write, "The sources I've heard from who know how the Weekly gets produced can't imagine the place functioning without a managing editor or copy chief, especially since the fact-checking staff was eliminated a while back."