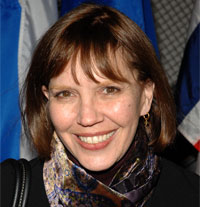 In The Washington Post today, Howard Kurtz reports that former New York Times national security correspondent Judith Miller (who once famously referred to herself as "Miss Run Amok") is joining Fox News as an on-air analyst and writer for the cable news channel's Web site.
Update, 12:25 PM: Ms. Miller spoke to Editor & Publisher's Joe Strupp, telling him, "I get to spout my views, I will NOT be joining the news team… I care about First Amendment issues and free speech and I will talk about that and foreign policy if and when we ever stop talking about the economy, which is going to be going on for a while."
She also tells Politico's Michael Calderone, "I was a Hillary supporter who has gone over to the Obama side… Lots of people think they know what I believe, but don't."