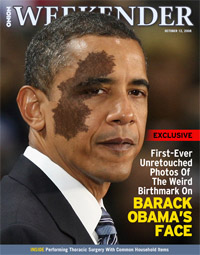 Last week, a lot of people in the media were upset about Newsweek's un-retouched cover photograph of Republican vice presidential nominee Sarah Palin.
The cover showed an extreme close up of Governor Palin's face, illustrating a critical appraisal of the candidate by Newsweek editor Jon Meacham in the magazine.
It prompted Portfolio's Mixed Media blogger Jeff Bercovici to aks, "Did 'Newsweek' Have to Show Palin's 'stache?" FOX (FOXA) News devoted a segment to the cover on October 8, 2008, and CBS News' Bonnie Erbe had some thoughts about in her Washington Whispers column last week.
To make the controversy all the weirder, The Weekender is running a shocking cover that touts an "exclusive" view of the "First-Ever Unretouched Photos of the Weird Birthmark on Barack Obama's Face." Of course, since The Weekender is The Onion's imaginary weekend magazine (think of it as the paper's version of Parade), it might be fake.
But in this election, when Fox News' Sean Hannity gives airtime to the man who invented the "Barack Obama is a Muslim" rumor, who the heck knows what's real and what's an outright lie anymore?