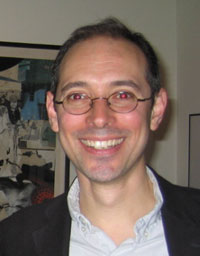 Tomorrow will be Matt Weiland's last day as an editor at The Paris Review. On November 10th he'll report for duty at the Ecco Press, the distinguished boutique house at HarperCollins that has been enjoying a massive year thanks to the breakout success of David Wroblewski's dog novel The Story of Edgar Sawtelle. Mr. Weiland said the job came about as a result of the book State by State, an anthology of essays he co-edited and published through Ecco this fall.
Mr. Weiland said that while working in magazines was a thrill, it does not hold the same appeal for him as the high-stakes gambling involved in the book trade.
"I just have books in my veins," he said. "My grandfather was a card shark and a bookie."
Mr. Weiland, who got his start in publishing as a rookie at the Columbia University Press while he was still an undergrad, has been out of the books game since he came to The Paris Review last spring. Before that he spent four years living in London and working at Granta, where he edited articles for the magazine as well as books by the likes of Joan Didion and Ian Frazier. From 1992 through 2000, Mr. Weiland worked as an editor at the New Press and in his free time helped Thomas Frank put out The Baffler, a small but beloved literary journal that has not been on a regular publishing schedule in years.
Ecco's founding publisher Dan Halpern, whose recent success is all the more extraordinary considering how worried his admirers were when he agreed to sell the company to HarperCollins in 1999, came to publishing by way of a similarly circuitous path, Mr. Weiland said, and thus was willing to take a chance when Mr. Weiland heard Ecco was replacing an editor who had recently gone to work at a different house.
"I said, look, I have a very unorthodox background, and we talked a lot and he was very sweet about it, because he had a similar background when he was getting going," Mr. Weiland said. "I've only ever made it up as I go along. I have no real expertise except a good generalist education at Columbia and a fair dollop of curiosity."
Mr. Weiland said he will be acquiring mostly history, memoir, and biography.
News of his job move first appeared in Publishers Weekly.