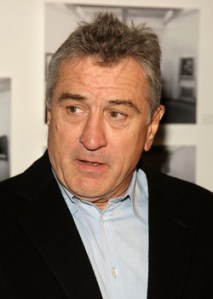 Barry Levinson's What Just Happened? is not a particularly good or funny or incisive inside-Hollywood movie, but no one who was leaving the film's premiere on Wednesday evening at the Museum of Modern Art seemed to mind. Afterward, on the second and third floors of the nearby 21 Club, Sean Penn—who before the film started had spent at least three minutes having a gesticulation-heavy conversation with Robert De Niro–was at Table 6. In the film, he plays himself playing the lead role in an overly violent action movie.
What are his thoughts on the financial crisis? "I'm not going to comment tonight," he said. "I've had a couple, I'm going to leave it at that."
A few minutes earlier, a significant-looking balding man walked by and said very loudly, "Harvey Weinstein will never speak to me again!" Then an 80-pound woman with razor lips and very touchable-looking hair adjusted the tight, thick leather choker around her neck. Nearby, Men's Health editor in chief Dave Zinczenko was blocking the way by talking with two men. "This bastard always steals things!" one said to the other about Mr. Zinczenko. Har-har-har! Around the corner there was Cybill Shepherd, dress cut low, talking to four men. And Barbara Walters and Steve Buscemi and Peter Dinklage; Roger Waters, Bob Balaban and Jay McInerney.
Earlier, at MoMA, Mr. De Niro was about to walk down the red carpet area that had been set up across from Sol LeWitt's Wall Drawing #1144. The Daily Transom wanted to speak with him, waiting along with well-wisher Albert Maysles, the documentarian.
Had he seen any De Niro films recently? "I don't think so, I don't see many films," he said.
Mr. De Niro turned around and there was time for one question: Won't it be good for films if New York tanks and gets gritty again—like in the '70s?
"Well," he said. He thought for a moment. He looked and sounded a lot like Robert De Niro. "Yeah, except, I guess, it would all be on Wall Street–a free for all. I don't know."
Did he mean that filmic grittiness would be good but Wall Street losing all its money would be bad?
"Well, that's another story, we'll see what happens."
What does he predict?
"I don't know. I don't know. I hope everything's O.K."
Regis Philbin strutted by in a big, bright tie. "It's a shame. It really is," he said. "It's a stupid shame. It all begins with people who want—pigs, really. Greed overcame them. So we wind up with a mess like this," he said. He was born in 1931 but doesn't remember the Depression. "Honest to God, I'd be very, very surprised if it's not going to be fine. It's just a terrible period to go through. You know, it may take a couple of years." Isn't that why movies are so wonderful? They make us happy when times are tough. "I hope it does tonight," he said.
It didn't. Mr. De Niro's character, a fictionalized version of the life of Hollywood director and producer Art Linson, was neither entertainingly hateful nor particularly likable (he has a Bluetooth headset in his ear for most of the film). Most of the film involves a weird, dour slapstick: In a big scene that involves running down a tarmac, chasing a studio executive's private jet, which has purposefully left without him, he talks on the phone with the ex-wife he still loves. Sad music plays.
According to the Los Angeles Times, the film was re-cut after not selling at Sundance. But it didn't sell at Cannes, either, so the film's financiers (including the billionaire Mark Cuban) had to release it themselves through their own distribution vehicle. "No, no," Mr. Linson, also one of the film's producers, said at the premiere when asked about those reports. "It was a five-minute standing ovation in Cannes. It was that it did not sell to a major distributor at Sundance. The response was great. The reporter that did that, Patrick Goldstein, wasn't at either place."
As these things go, What Just Happened? basically begins with a failed test screening in a movie theater, and, whoa, ends at Cannes. In real life, after the screening at MoMa, people politely clapped a bit and then filed out.