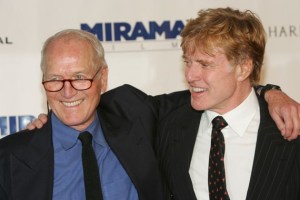 We've seen a lot tributes to the late Paul Newman this week. He touched a great many people, from director Robert Benton to David Letterman to director Sam Mendes. It seems that everyone who met him had a story to tell.
However, the stories we've been most interested to hear were from his friend and cinematic partner in crime, Robert Redford. And yesterday, Mr. Sundance himself finally wrote about the late Mr. Newman for Time magazine.
In a touching first-person appreciation, Mr. Redford talks about Mr. Newman's acting style, his sense of humor and his charity work. But what we loved reading were the personal stories of their friendship. We found this passage particularly endearing, funny and warm. A great portrait of what Paul Newman was all about:
Mostly I'll miss the fun we had. We played lots of pranks on each other. I used to race cars, and after he took this rare Porsche I owned for a drive, he began to get into racing. He had incredible reflexes, and he got really good, but he talked so much about it that I got sick of it. So I had a beaten-up Porsche shell delivered to his porch for his 50th birthday. He never said anything, but not long after, I found a crate of molten metal delivered to the living room of my (rented) house. It dented the floor. I then had it turned into a really ugly sculpture and dropped into his garden. To this day, neither one of us has ever mentioned it.