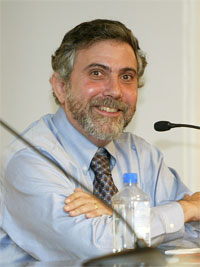 Earlier this morning we mentioned that New York Times columnist Paul Krugman had won the Nobel prize in economics.
Here's how Andy Rosethnal, editorial page editor of The Times announced the news to his staff:
To the staff:
I'm sure by now you've all heard the wonderful news, but it bears repeating: Paul Krugman has been awarded the Nobel Prize for Economics for his work on international trade and economics. This work, of course, is outside the twice-a-week column that he writes for our Op-Ed page. But to say that we're proud of Paul and his association with The Times would be an amazing understatement.
Paul writes one of our best read and most popular columns, in part because of the power of his ideas and the force of the positions he takes, but also because he does something that few scientists of his caliber have ever achieved. He takes enormously important and incredibly complicated subjects and translates them in ways that are not only understandable to everyone, but that also make them relevant to everyone's actual lives.
There is an ancient tradition of editors taking credit for awards given to anyone on their staff, at any time, but I'll confine myself to saying how delighted I am to be a colleague of Paul Krugman's.
Andy Rosenthal