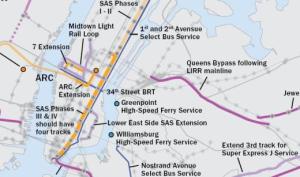 The Regional Plan Association released a comprehensive report today, calling for the long-term creation of a host of transit projects–including new subway extensions, light rail and rapid bus service–designed to expand capacity and service as the area's population grows.
Among the recommendations were calls for a light rail loop in midtown that connects to the emerging far West Side; rapid bus service on First and Second avenues; an eastward extension of the planned Second Avenue Subway to include stops in the Lower East Side; an extension of the planned subway to reach westward across 125th Street; new ferry service across the East River; and a set of new subway extensions outside of Manhattan.
The proposals span from the extremely costly (the Second Avenue Subway would need well over $10 billion to be completed to its current plan, let alone an extension, for instance), to the more modestly expensive. A rapid bus service on the East Side, the report says, would have limited costs and could be implemented in the short-term.
Among the more intriguing recommendations for Manhattan is a proposal for free cross-town buses in midtown, a concept that would save significant time given the time currently spent loading the buses with fare payers.
"What we have to do is begin to pinpoint these things so that New York and the urban portions of this region can begin to benefit from the coming oil dependence problem, the gas problem, the sustainability problem," said Jeff Zupan, the main author of the report.
The report, entitled "Tomorrow's Transit" (PDF here), comes as transportation advocates are trying to put better transit on the national agenda amid tight budgets and a sinking economy. Yesterday, advocates and city and state transportation officials held a rally where they pushed for more federal transportation investment.