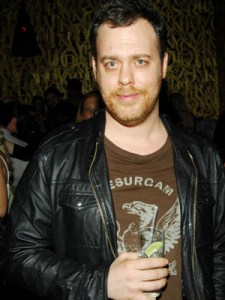 Two weeks ago, Maxim deputy editor Chris Wilson published a short essay on sex addiction in Page Six Magazine. "Humans are as addicted to sex as we are to biological imperatives like eating, breathing and taking long bubble baths while listening to soft jazz," it began. A few lines down things took a turn to the dark side: "The other night I was flying on American Airlines, which recently began offering unfiltered Internet access, and the guy next to me was either pleasuring himself to online porn, or whittling something under his blanket. Thankfully, I had a copy of Departures to shield my face, but it was still pretty uncomfortable."
Since its publication, Mr. Wilson (an old, dear friend of the Transom), has had to clarify to numerous people that the essay was meant in jest. At first he found this frustrating. Then last Tuesday a guy from Oprah called.
"The guy said, 'I'd love to have you on as a sex addiction expert,'" Mr. Wilson recalled. "I said, 'I think if you think I'm an expert—I'm not sure about that but sure, I'd love to be on the show.'"
Mr. Wilson, who is 35, worked for six years as a gossip reporter for Page Six; he has contributed his share of zingers on VH1 and is heavily featured in the E! True Hollywood Story on Paris Hilton. Still, he said of The Oprah Winfrey Show, "That's the mountaintop right there." As the producer on the other end of the phone began to go over the dates and itinerary for Mr. Wilson's upcoming trip to the set in Chicago, he said: "Man, I can't believe that guy was masturbating next to you on the plane."
Mr. Wilson replied, "You realize that was a joke, right?" He did not! Mr. Wilson asked if they would still require his expertise on the show. The man had to double-check. Mr. Wilson knew it was all over. "I could been the James Frey of midair masturbation," he said.
smorgan@observer.com