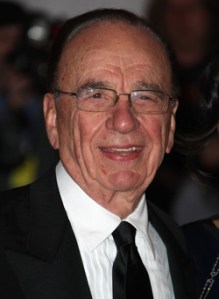 It rained hard on Wednesday. By the time guests started to arrive at Bourbon Street—the New Orleans-themed saloon in the Theater District—the rain had tapered off but the streets had that shiny, film noir, old New York look. You could almost imagine Travis Bickle cruising by in an old yellow taxi talking about how a real rain would some day come to clean up our dirty streets.
It was, in short, the perfect atmosphere for the party Rupert Murdoch was hosting in honor of Steve Dunleavy, the longtime New York Post columnist, reporter and editor. Mr. Dunleavy cut his teeth in New York journalism writing about the Son of Sam. The old New York now familiar only as a kind of ghost story about garbage strikes, rampant muggings, heroin dealers, squeegee men, Times Square street walkers, economic malaise and social dysfunction—that was his New York.
"Unbelievable. Usually you're dead when they have one of these," Geraldo Rivera said to no one in particular. He was looking into the crowd inside of Bourbon Street from the steps outside the bar, peering over rose-tinted glasses. His mustache bounced with each word.
We forgot to mention: Mr. Dunleavy lives! He might be "as old as dirt," as Post editor Col Allan said. He might appear a bit frail—he walks with the assistance of a cane these days and his always-gaunt visage is becoming skeletal. But he lives on, long after the city that he knew has died, and been reborn brighter and shinier. His famous shock of white hair is more buoyant than it ever was. He is, after a career in journalism that lasted just about forever, finally retiring.
"I'm sorry, we aren't letting any press in tonight," a blond woman said when we approached the door with our notebook.
Wasn't just about everyone in the bar press? She clarified, "No working press."
We assumed a position outside the bar, where we had a good view of the proceedings within. Drinks flowed freely until they were interrupted by the sound of bagpipes and drums. Unbelievable, was right. It was the wake-iest non-wake we had ever been too.
Mr. Allan emceed the ceremony, describing Mr. Dunleavy as a "wonderful journalist and an even greater man." Behind him a video tribute began. It was the greatest hits of Mr. Dunleavy's career. Outside it was raining, and the ink on our notepad was starting to run. We considered leaving. What kind of tribute to a journalist forbids journalists from covering it?
"Do you want a beer?" Post reporter Doug Montero asked. We accepted the offer. Mr. Montero told us that when he began reporting for the Post, he was constantly confronted by those in the "hood" who objected to Mr. Dunleavy siding with the police in just about every shooting or brutality scandal that came along. "He was always pro-police, always siding with the cops. They thought he was a racist. I probably did, too. But over the years, as I got to know him, I figured out that he wasn't a racist at all. I found myself explaining to people that Dunleavy wasn't racist. I probably shouldn't have done that. It might have cost me a few sources, stories. But Dunleavy has a good heart and I felt compelled to defend him," Mr. Montero said. He added: "No one would believe me, though."
When the video was done, Mr. Murdoch was handed the microphone. "Your whole career defies description," Mr. Murdoch said. "You were not always the most reliable person. I once wrote you a check for $30,000 as a surprise bonus. You were so surprised you spent the whole night in Costello's. The next morning you had to come to me to confess that you'd lost the check. So I wrote a second check. But I didn't give it to you. I gave it to Gloria, who used it to make a down payment on your house, the one you are still living in."
Next came the inevitable police and firemen. Chief of Police Ray Kelley said, "The Post without Dunleavy is like Smith without Wesson." He gave Mr. Dunleavy a plaque and an NYPD baseball cap. The union head of the firemen gave Mr. Dunleavy a fireman's helmet. A priest said a blessing. He did not give Mr. Dunleavy a bishop's cap.
Mr. Murdoch left around 9 o'clock, getting into the passenger front seat of an enormous black SUV. He was followed closely by Connie Chung and husband Maury Povich, who hosted A Current Affair with Mr. Dunleavy in the ancient times. "The stories about Dunleavy—and he's Dunleavy, not Steve—were notorious. My husband would come home with a new story about him in a bar every night. Maury tried keep up with Dunleavy when they would go out, but he couldn't, to his credit," Ms. Chung said.
With so many guests leaving, we infiltrated the party at last. Mr. Dunleavy was on a terrace overlooking the street, holding court before a group of admirers. One man was actually on his knees before him.
What was Mr. Dunleavy's favorite part of the party, we asked. "The whole thing, the whole damned thing."
Mr. Dunleavy left sometime before midnight. One of his friends leaned in and said, "This is his favorite part."
With both Mr. Dunleavy and his friend, it wasn't clear if they were talking about the party or his long writing life.