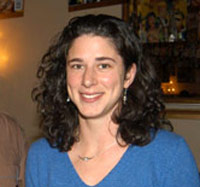 Salon.com columnist (and Observer alum) Rebecca Traister will write a book about "the unexpected ways the 2008 presidential election brought issues concerning women and power, sexism and feminism to the fore" for Wylie O'Sullivan at the Free Press imprint of Simon & Schuster. Linda Loewenthal from the David Black Agency brokered the deal; Free Press retains world rights.
Martha Levin, the publisher of Free Press, said in an email that Ms. Traister plans to weave her personal experience of "questioning her own feminism while choosing between Clinton and Obama."
Obviously, Ms. Traister has been writing about related topics throughout this campaign. In a column published yesterday, for example, she examined how the election has affected the careers of Katie Couric, Rachel Maddow, and Campbell Brown.
Ms. Levin declined to comment on Ms. Traister's advance for the book, but a source at another house said it was at least $300,000.