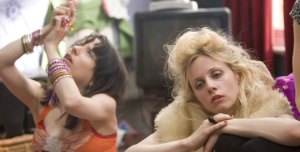 It's entirely probable that Mike Leigh is having a bit of fun with audiences with his new movie, Happy-Go-Lucky. When we meet Poppy (Sally Hawkins) at the start of the film, she's a suspiciously bubbly 30-year-old, riding a bicycle, wearing brightly colored clothes and trying to spread good cheer to a foul-tempered bookstore worker. It's much easier to identify with his mood than hers, and in fact, you might wonder: What's the deal with this annoyingly cheerful weirdo? Just what the hell is wrong with her? The joke of the film, of course, is that nothing is wrong with Poppy … unless you count being happy and in a good mood even after your bicycle is stolen, you throw your back out or you're being stalked by your driving instructor.
Poppy is loud and quick to laugh and never wants to take off her high-heeled boots. Unsurprisingly, she is a wonderful preschool teacher. The film starts off slowly, and as one waits for the action to kick in, we learn that Poppy lives with her best friend (a hilariously deadpan counterpart played by Alexis Zegerman); bounces on trampolines for exercise; is single and apparently telling the truth when she says she doesn't care; and is up for flamenco lessons, a chat with a homeless man or whatever bit of fun comes her way. Mr. Leigh uses Poppy's interactions with others as a way to fully flesh out a more complete portrait. She is ever accommodating to everyone in her life, and seems to view those who aren't completely under her spell as a challenge. Her driving instructor, a possible Satanist who doesn't approve of Poppy's frivolities (a brilliant Eddie Marsan), at first appears to be a tough nut to crack. But after a few sessions, he swings too far in the opposite direction. By the time Mr. Leigh brings in real tension—in Poppy's handling of the instructor's frustration, or the young bully in her classroom—Ms. Hawkins suddenly transforms. Gone is the breezy chuckling gal, and in her place arrives an entirely still and solemn one, watchful. Suddenly, we are forced to consider that Poppy's effervescence perhaps indeed is a cover for something dark and sad. But just as quickly, the grin and goofy expressions return.
Poppy's roommate tells her that she can't make everyone happy. "There's no harm in trying, though, is there?" is Poppy's typical response. It's a hard character to play, and it's kind of funny to hear how many people found Poppy so totally nails-on-chalkboard annoying. Regardless, credit is due to Sally Hawkins, who also appeared in Mr. Leigh's Vera Drake. She's already picked up a bunch of awards on the festival circuit, and it would not surprise us in the least if her name is mentioned come award season. That is, if people can get past the whole happy thing.
 
Happy-Go-Lucky opens Friday at Landmark Sunshine cinema.