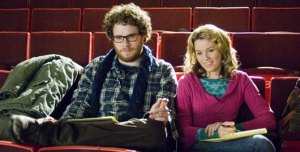 When Kevin Smith's Clerks came out in 1994, who could have known that the first-time filmmaker from Jersey was paving the way for filmmakers like Judd Apatow to take over the world? "Bromance" may not have been in our cultural lexicon 14 years ago, but that's what Mr. Smith was dealing with—whether it be Jay and Silent Bob, or Ben Affleck and Jason Lee in Chasing Amy, or Matt Damon and Ben Affleck in (the underappreciated!) Dogma. But now, Mr. Smith has turned his attention to a more typical kind of romance, even though at the beginning it's obscured by, well, porn.
In the descriptively titled Zack and Miri Make a Porno, Seth Rogen plays Zack, a coffee barista who lives with his longtime best friend Miri (Elizabeth Banks) in a crumbly apartment under a mountain of unpaid rent and bills. After the water is shut off, and the heat, too (and gosh, it looks awfully cold in Pittsburgh—good thing Elizabeth Banks has so many homemade knit scarves and hats to be draped in), the two come up with a plan to save themselves: a homemade porn movie. One best not trouble themselves with the question of whether there was some other way Zack and Miri may have raised some money before resorting to onscreen sex—what's the fun in that? Especially when it means you can come up with fun porn title spoofs on popular films (Star Whores!).
Still, it's hard to imagine this film succeeding on any level without Mr. Rogen and Ms. Banks as the leads. The two of them share a natural chemistry, and while the film has some clunky moments and a couple of beats-off jokes leading up to the, um, climax of the film, when Zack and Miri inevitably get together (in quite an unusual fashion), the movie takes a surprising turn from the somewhat crass to heartwarming. Mr. Smith does an admirable job creating a character such as Miri, who can hang with the boys in a totally fresh and believable way. Some of Mr. Smith's old reliables show up; warning, you might be shocked to see how the once baby-faced Jason Mewes has aged. Mr. Rogen brought some of his own friends into the mix, too—Craig Robinson (Darryl on the American Office) in particular walks off with a couple of scenes. As expected, there are a handful of obligatory racial and homosexual gags, and maybe a wee bit too much physically raunchy humor, but hey, if it gets seats filled, who are we to argue? Speaking of "Hey," much praise should be given to whoever did the soundtrack for Zack and Miri. This might just be the best use of a Pixies song in film ever.
Zack and Miri Make a Porno opens Friday at Regal Battery Park Stadium and AMC Loews Lincoln Square.
svilkomerson@observer.com