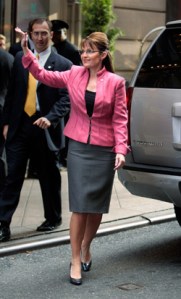 In September, Page Six reported that there might be a secret team of stylists behind vice-presidential nominee Sarah Palin's sartorial selections. But today Liz Smith reports that there's just one woman, named Gahl Hodges Burt, responsible for those well-fitted skirt suits.
Ms. Bart served as the "social secretary"—aka glorified party planner—to First Lady Nancy Reagan from 1983 to 1985. Richard Burt, Ms. Burt's husband, was the U.S. ambassador to Germany from 1985 to 1989 and continues to be a senior adviser at Kissinger McLarty Associates. Sometimes referred to as a Republican socialite (or "one of the chicest women in Washington," as Ms. Smith described her), Ms. Burt is also giving style tips to first lady hopeful Cindy McCain. 
Unlike Michelle Obama–who has worn designers ranging from Thakoon Panichgul to H&M–Ms. Palin and Mrs. McCain have shied away from discussing their wardrobes. And in the case of Ms. Palin in particular, a $2500 Valentino jacket she wore to the convention received the kind of attention that undermined her all-American, hockey mom image.
Still, Ms. Smith notes that the vice-presidential candidate is looking better and better these days. 
"She has makeup sculpting her face for photo advantage, including the subtle lighter foundation stripe down her nose that brings out the cheekbones and narrows the nose. Her suits accentuate her slim waist and hips," she writes. "And she carries no handbag, just like Hillary Clinton, Carla Bruni, Anna Wintour–we seldom see these women with pocketbooks, save for evening dress."
When The Washington Post interviewed Ms. Burt in 1997 about inauguration fashion, she was already well-acquainted with the risks of making candidates or their wives appear too glamorous. 
"For the first Reagan inaugural—and there's a lot more excitement associated with the first—there was a general feeling of we've had it with the down-home style of the Georgia Democrat, and we're going to return to a more glamorous, refined atmosphere. . . .No more peanuts in bowls," Ms. Burt told the paper. "It was reflected in the inaugural because some events were white tie, and it carried over with the Reagan administration."
But Ms. Burt had learned a lesson when time came for the Reagans' second inauguration. 
"It was a conscious decision to make it black tie," Ms. Burt said at the time. "People had attacked Nancy Reagan in the first term for the china and the tablecloths and things. She was being criticized for being too glamorous, and people were focusing on things that can be presented as frivolous… Every first lady wants to have it right," Ms. Burt. "It sets a tone for herself and for the country and for what the country can expect."