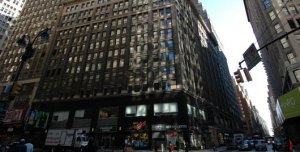 Debt markets be damned! Wachovia was so eager to unload its 21-story pile of bricks at 1372 Broadway, despite the general unavailability of large real estate loans, that the bank financed its own building's sale to real estate mogul Lloyd Goldman.
The Carlton Group's Howard Michaels put the financing scheme together, and it's an ingenious (if confusing) one. Essentially, Wachovia issued a mortgage of $235 million—86 percent of the full $274 million price tag—to Mr. Goldman, at a very low rate.
Now, banks don't own a lot of bricks. But they do own a lot of commercial real estate loans that are looking increasingly risky. And according to David Schechtman, who heads up Eastern Consolidated's Turnaround and Distressed Group, banks are increasingly looking to mimic the Wachovia transaction.
It pays, basically, to unload some assets any which way these days.
Mr. Schechtman explained why: "In the event a bank is willing to sell an income-producing loan at a discount, they are in several instances providing as much as 50 percent financing to the loan purchaser, even though they prefer outright sale.
"A lot of the loans in play were made in '05, '06, '07, and they have interest reserves," Mr. Schechtman said. "Now that there has been a marked decrease in values, those interest reserves are being depleted, and banks are more willing to entertain sale at a discount as an option."
drubinstein@observer.com