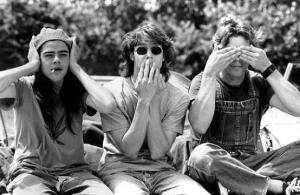 It's 2 a.m. and you awake with a jerk, alone in your fully-lit apartment and still on the couch. On TV, the credits of some movie you've already seen a billion times are scrolling by. It feels like rock bottom. And we know, because we're just like you: single.
Need a movie to keep you company until you literally can't keep your eyes open? Join us tonight when we pass out to Dazed and Confused [starting @ 12:50 a.m. on HBO2]
Why we'll try to stay up and watch it: Has it become a cliché to like, no, scratch that, love Dazed and Confused? Probably. But we don't care. To this day it remains one of the most watchable movies to come out in the past 15 years. Seriously? Fifteen years? This movie is old. We were in high school when it came out! [Ed. note–speak for yourself.]
From the opening, with the now defunct Gramercy Pictures logo fading up under the beginning chords of Aerosmith's "Sweet Emotion," to the very end, a drive into the great unknown with Foghat's "Slow Ride" blaring, nearly every minute of Dazed and Confused is pitch-perfect. Richard Linklater has never done better and more assured work as a director. He's like a stoner Altman mixed with a southern Scorsese, and his camera swoops in and out of scenes capturing all that happens during the last day (and night) (and following morning) of school with a voyeuristic grace. In the end, Dazed and Confused works so well because, like the best high-school movies, it manages to be absolutely timeless.
Of course the cast is absurd: Ben Affleck, Matthew McConaughey, Joey Lauren-Adams, Parker Posey, Anthony Rapp, Adam Goldberg, Milla Jovovich. Supposedly, Renee Zellweger has a walk-on in Dazed and Confused , too, but in the 30 times we've seen the movie, we haven't actually caught her anywhere. Maybe we're not looking hard enough.
When we'll probably fall asleep: Normally we'd stay up to the end of Dazed, but since it's starting so late, there is no chance we'll make it until 2:30 a.m. We have this little thing called work in the morning. So how about we make it until 2:10 a.m. instead? About 80 minutes in, Adam Goldberg gets his ass kicked by Nicky Katt, and "Tuesday's Gone" plays on the soundtrack. Best music cue ever? Perhaps.