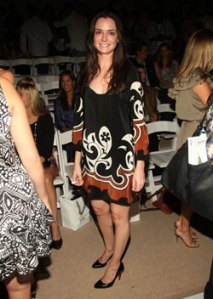 When reached by phone the other day at her new apartment at Greenwich and Jane streets, socialite and actress Annie Churchill apologized for her scratchy voice. She had been out until 2 a.m. the previous night, she explained—a party for artist David Foote on Pine Street, a quick stop at Marquee, dinner, then Socialista. "I only drank water and an energy drink," she said, adding that she quit drinking alcohol two months ago to focus on her new online venture, which Ms. Churchill first told us about during New York Fashion Week. Since then, she said, "I find that I'm exerting so much more energy when I'm out networking that I end up getting a sore throat." 
Ms. Churchill filled us in on some details of her new project: It includes a fashion retail Web site, an online fashion magazine and a Web-based fashion-lifestyle show that Ms. Churchill will host. (The three components will function as separate Web sites, but will drive traffic to one another.) The venture, owned under the umbrella company Virtual Etail Group, has a full-time staff of six, including co-founder Melissa Skoog, a onetime assistant to Anna Wintour and former vice president of public relations at Prada; and CEO Andrew Albert, a TV producer whom Ms. Churchill's been dating for three years. ("We basically met and moved in together. It's kind of a done deal now, but I've already been married once and I just don't want to rush it," she said of the relationship.)
"It's a mass-appeal luxury retail site that will have both high and low brands," said Ms. Churchill, who is 37. "It's geared towards shoppers ages 25 to 45, perhaps in middle America, who love fashion but might not have access to a lot of these brands. And it's 100 percent brands that I would shop. And remember, I shop everywhere from H&M to Chanel."
The online magazine will function as a sister site and the fashion-lifestyle show will feature "interviews and intimate discussions with people in the business." Both will go live in January, while the retail Web site gears up for a June launch.
Ms. Churchill's first foray into fashion came in 2004, when she started a clothing line called AnGil with fellow socialite Gillian Hearst-Shaw. But in 2006, the line of sparkly tank tops and sweats was discontinued.
"We were both going through changes—she was getting married and I was breaking up with someone—and we had issues with our manufacturers," explained Ms. Churchill. (Ms. Hearst-Shaw was marrying lawyer Christian Simonds; Ms. Churchill, the former Anne Wiedemann, was divorcing John Churchill, descendent of Winston.)
So is Ms. Churchill worried about having her boyfriend and housemate be the CEO of her company?
"Normally, I would say yes, but we're both so professional that I really am not worried," she said. "Everyone in our company is friends, which people say is a big no-no, but I don't worry."
As for quitting drinking, Ms. Churchill plans to continue her sobriety kick.
"Everyone has had that morning when they wake up and say they will never drink again, but it actually hasn't been bad at all," she said. "It's just so much better for getting respect. I wake up and I feel amazing and clear and I remember everything, and you still have your self-respect intact."
ialeksander@observer.com