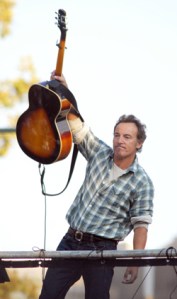 Every year on October 31, in a faraway land called Central Jersey, in a wealthy little seaside village called Rumson, there is a big castle with a grand display of spooky masqued characters and opulent Halloween decorations that children from all over the land flock to while begging the town elders for tricks or treats. And in this castle lives the King of New Jersey: Bruce Springsteen. The townspeople looooove celebrating Halloween there, so much so that far too many of them now endeavor to make this yearly pilgrimage, and thus King Springsteen and his wife, Queen Patti Scialfa, have issued a new edict: Stay the hell away from our house!!!
Well, it wasn't quite that harsh, but indeed, Mr. Springsteen has canceled the annual festivities at his well-known mansion near the Jersey Shore. From the AP:
Writing on his Web site, Springsteen blames "catastrophic success."

The 59-year-old rocker and his wife say too many visitors to their Rumson neighborhood raised concerns for the safety of children and parents.
But don't worry children of Rumson—there will plenty of other rich people to hit up for some candy!