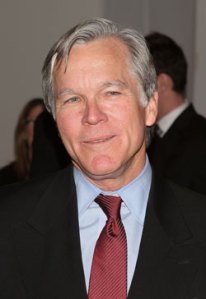 At first, there was good news at New York Times executive editor Bill Keller's semi-annual State of the Newsroom town hall meeting, the supposed informal name of which has now become official: "Throw Stuff at Bill."
There would be no job cuts.
But of course, there's a plenty big trade-off for protecting a staff.
For one, you've got to lose your stand-alone Metro and sports sections. It means new projects and some investigative projects are suspended. It also means that you might get "more exotic and garish species of advertisements," said Mr. Keller.
And: "It will mean, I'm sure, that our hiring is even more selective than before."
Hiring is already selective to begin with. Yes, The Times has been able to pluck away the likes of Peter Baker from The Washington Post and Jackie Calmes from The Wall Street Journal this year, but even Mr. Keller conceded, "There have been very few of those."
And they were brought in to cover the election, for which the newspaper anyway gets a quadrennial shot of a special budget-plumping complex.
But cuts aren't everything, and, as Bill Keller well knows, the remaining question is, what are you doing with what you've got? And the answer, it seems: taking care of Business Day.
Why, one questioner asked, was BizDay suddenly increasing in size while everyone else was being told they couldn't hire?
"The new hiring we've done over the past six months to a year, I would say, certainly since the time of the buyouts and the layoffs, has been overwhelmingly for digital," he said.
He continued: "It's been money that comes from an investment fund, if you will, that was set up to try and expand some of the business verticals that the company hopes have the potential to make good money down the road."
Last month, The Times did expand BizDay, at a moment that was timed eerily well (traffic in September, thanks to the financial world going nuts, was up 66 percent versus September 2007). The page added Personal Technology, Small Business, Your Money and Economy sections—the sort of stuff that generates lots and lots of traffic.
And traffic is everything in the executive suites of the Eighth Avenue Times Tower these days.
When those "channels" launched on the business page last month, a press release went out to investors and reporters. The release declared: "First of Many Steps to Enhance Online Business and Technology Coverage."
In a conference call with investors, a call generally reserved to talk of dividends, debts and risk, CEO Janet Robinson trumpeted the section even more and said more reporters and editors will be hired!
"In the coming months, nytimes.com will expand its Small Business, Personal Technology and Your Money sections, introduce more journalists, deepen coverage in its DealBook franchise and continue to add more tools and multimedia features," she said in the call.
And indeed the hiring has already begun.
Over the past six months, the paper has hired more than a dozen journalists to work for it, most recently plucking the New York Post's mergers and acquisitions reporter, Zachery Kouwe, to come work under Andrew Ross Sorkin at DealBook. Other hires have included Ben White from the Financial Times, Vindu Goel, Sam Grobart, Claire Cain Miller and Ashlee Vance.
So—what's this magical "investment fund," and where can we get one?
"We've gotten money budgeted to invest in business verticals on the Web site this year—economics, green business, small business, expanded technology," wrote Mr. Keller in an e-mail to Off the Record. "The money has gone to hire a small number of editors, reporters and producers. Most of the vertical expansions are already launched, and some of their work has appeared in the printed page as well."
As far as where it comes from, he said: "The money is in the digital budget, which (as part of the integration of the newsroom) is merging with the newsroom budget."
So … that's the investment fund! So does this mean that digital products that produce traffic results are immune from the budgetary constraints of the rest of the paper? (And are we really asking a different question than Mr. Keller's questioner asked?)
Not that it doesn't make sense: In September—no doubt because of the credit crisis—the newly launched Economy section had four million page views in its debut month. But it does seem to indicate that the horse and the cart of print and Web have reached a new kind of accommodation.
"Nothing better validates the priority we have given to our journalists than our coverage of the financial crisis," he said to staffers. "Because Larry Ingrassia has been building a stronger BizDay staff over the past few years when other newsrooms have been brutally downsizing, we have dominated this story with the best reporting team in journalism. That is not just sloganeering or paternal pride."
He added: "Day after day, week after week, we have been quicker to the news, smarter and more lucid in explaining it, and better at conveying what it means to ordinary Americans than our competition—and, yes, that includes publications that live primarily to report on business."
jkoblin@observer.com