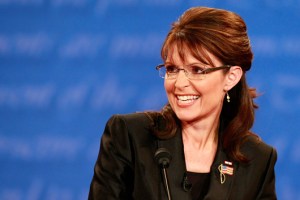 At the Republican National Convention in St. Paul, Rudy Giuliani set the tone for Governor Sarah Palin and the sharp, well-delivered attack speech that brought her to national prominence. Then, last night, after a poor stretch for Palin highlighted by embarrassing interview performances, Giuliani was back to confidently herald Palin's return to form.
"I mean, this was a fabulous performance," said Giuliani, walking at a two-step-per-minute rate with his wife, Judith, in a frenzied scrum of reporters in the media center at Washington University in St. Louis on Oct. 2. "She displayed tremendous intelligence, she displayed total grasp of the issues, and she did a very effective job of attacking Joe Biden and Barack Obama with a lot of style and a lot of grace. And I think she knocked Joe Biden out. Her best moment was when she said, 'There you go again,' pointing out that Joe Biden is constantly talking about the past, represents the past, represents all that's worst in Washington."
He took two more steps and ducked into a television studio. A little later he emerged and added, "I think he was on the defensive so much that I think Sarah Palin induced those mistakes. Because I don't think Joe Biden ever expected this woman to attack him so effectively. She did it with a velvet glove."
He moved the scrum a few more steps and disappeared into another black curtained television studio. When he emerged he added, "I think any fair-minded person, who was not going at it from a liberal bias, or a liberal media bias, would say that this is one of the most effective debate performances they have ever seen." He called her a "smart person," and "one of the best debaters I have ever seen."
Told of Giuliani's broadside, Obama senior strategist David Axelrod, standing in his own media circle across the room, replied nonchalantly, "Given the spectacular success that Mayor Giuliani had in his race, far be it from me to challenge his political judgment."
While Giuliani and other McCain surrogates in the media center "spin room" after the debate attempted to portray the more stylistic aspects of Palin's performance, in which she professionally delivered attack lines in folksy wrapping, as hard evidence of her superior intellectual hardware, political skills and mastery of policy issues, the Obama campaign sought to pick apart what they depicted as a lack of substance in her answers.
Axelrod, who before the debate had argued to reporters that "she's a very proficient debater and I think she'll come in here well prepared," now said he wasn't just "spinning," before. But her zingers were not what counted, he said.
"This was a folksy rendition of the same Bush policies," he said, encircled by reporters with notebooks, television cameras and tape recorders immediately following the debate's conclusion. "McCain and Palin, essentially, support the same direction for this country."
Referring to Palin's response to a question about nuclear proliferation, he said, "She said that a nuclear incident would be the 'be all and end all' for a lot of people. Well, yeah, that's not news. The question is what are you going to do to try and prevent that from happening." Asked how Biden did, Axelrod said, "Rather than offering them a wink and a smile, he offered them hope. He offered them a plan, he offered them a way out of the mess that we are in."
The festivities began well before the candidates arrived on campus.
Hours earlier, as reporters started trickling in and retrieving their bags of shwag in the Science Laboratory building where lectures still took place in front of chalked up black boards, it was clear that the bar for Palin was extremely low. Two sign language translators standing by the debate entrance jokingly practiced tumbling their hands over one another in what one of the young women called the "fragments of sentences" sign.
On television, CNN showed Palin deplane. She carried her infant son, dressed in white pajamas, and carefully negotiated the staircase, holding onto the banister. Her husband stood behind her in sunglasses.
Just off the campus quad, where some students tossed Frisbees and played croquet, MSNBC's Hardball With Chris Matthews set up a stage behind which students clamored with Obama and McCain signs in hand. (A few especially slim girls wore Obama stickers on the bellies of their shirts.) One young woman held a sign that said "McFailin 2008" next to a man who held a cardboard cut-out of Abraham Lincoln holding an Obama placard. A blond woman distributed yellow, pink and blue pieces of oak tag with pro-Palin messages written in paint or glitter, so as to seem homemade. They weren't, but they were popular nonetheless.