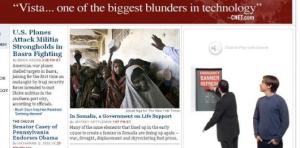 Another bit from rthur Sulzberger, Jr.'s WebbyConnect speech: Those Apple ads that have taken over the Times' home page several times over the past year are "very exciting" and are doing very well.
"There are some ad campaigns that we've run on our home page—the Apple ad campaign which I hope you've enjoyed which is very exciting and done very well—but there's going to be more work," he said.
We sort of know how much he likes them. Earlier this year, a spokeswoman told us that the home page would run the ad only once a month. After we saw it run on consecutive Fridays, that statement was revised: "While that remains the rule, there is some flexibility regarding timing as this is a test and learn situation."