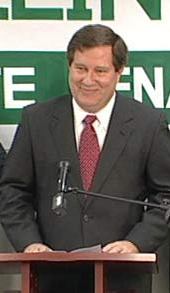 The path to rent-regulation reform in New York City may lie through Rochester.
Tenants PAC, a political action committee whose stated mission is to strengthen New York's rent-regulation laws, has donated thousands of dollars to Democratic candidate Rick Dollinger, who's trying to regain a Senate seat in Rochester. The group has also sent money to Democratic Senate candidates running in and around Buffalo and Watertown.
It might seem like a counterintuitive strategy. Rent regulations apply only in New York City and the surrounding suburban counties. But Tenants PAC is banking on the fact that these upstate candidates will be sympathetic to an exclusively downstate issue.
A lot is at stake this election for pro-regulation activists, landlords and tenants. The Democrats are only two seats short of a majority in the State Senate. If it changes hands on Nov. 4, the Democrats would be in charge of both legislative houses as well as the governor's mansion, allowing them to push through rent reforms that city-based senators such as Liz Krueger and Tom Duane have said would be a priority in a Democrat-controlled Albany.
To help push the Democrats over the edge, Tenants PAC has devoted its meager resources entirely to state Senate races it thinks pro-tenant candidates can win. Hence, the contributions to candidates that have no rent-stabilized constituents of their own.
In the past two years, Tenants PAC has raised $114,000 from about 500 donations. The majority are individual contributions between $20 and $200. Several tenants associations have given a few thousand each (Stuy Town's gave $7,000).
The strategy seems to be having the desired effect. "One upstate senator told me, 'This issue doesn't affect my district but it's life and death for my colleagues in the city,'" said Tenants PAC's treasurer, Michael McKee, who declined to name the senator in question and who himself has donated about $2,800 to the PAC.
Mr. McKee, who calls himself a lifetime community organizer, said the group has given roughly $49,000 this election cycle to Democratic Senate candidates. Of that money, at least $7,000 has gone toward Rick Dollinger's campaign; $3,500 towards Joe Mesi's campaign northeast of Buffalo; and $1,000 towards Darrel Aubertine's re-election race north of Syracuse.
Meanwhile, three industry-funded groups—the Real Estate Board PAC, the Rent Stabilization Association PAC and the Neighborhood Preservation Political Action Fund—have contributed close to $1 million to state candidates, according to disclosures filed with the State Board of Elections. Although that money is spread between Senate and Assembly candidates from both parties, roughly $350,000 has gone to the State Republican Senate Campaign Committee. Joe Robach, the Republican incumbent being challenged by Mr. Dollinger in Rochester, received more than $20,000.
"We would very much hope that the Senate remains Republican to act as a counterbalance to the regulatory tendencies to the Democrat-controlled Assembly," said Jack Freud, executive vice president of the Rent Stabilization Association. "We're looking at all the races."
Tenants PAC's decision to focus on a few key races seems shrewd. In 2006, the group devoted all its resources to a single Senate race in Westchester. It sent dozens of volunteers to help the pro-tenant candidate, Andrea Stewart-Cousins, who won. "We made electing Stewart-Cousins our sole task," Mr. McKee said. "It was well worth it."
Tenants PAC is trying to pull off something like that again. This weekend, 20 volunteers went door-knocking in Queens to help pro-tenant City Council member Joe Addabbo win Serf Maltese's Queens Senate seat.
"We don't have nearly as much money as the real estate lobby," Mr. McKee said, "but we have people power."