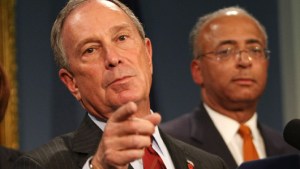 After the vote to extend term limits, City Comptroller Bill Thompson told reporters, again, that he is proceeding with his run for mayor.
The Council members who were planning to run for comptroller certainly hope he's not just posturing.
"I only know what I read in the papers," said City Councilman David Yassky of Brooklyn, who was running for comptroller. "And he says he is running for mayor." But, Yassky added, "I suppose anything can happen."
"The point of no return, I think, is the end of May, because you have to do petitions in June," said City Councilman David Weprin of Queens, who is also running for comptroller.
He acknowledged that before that legal deadline, speculation about whether Thompson or any other incumbent running for higher office could persist, and that "nobody wants to be in limbo that long."
When asked if he had ruled out running against Thompson should he seek re-election, Weprin said, "I pretty much ruled it out, yes."
Yassky did too, and he also thought that the political point of no return could come well before May, because candidates needed to get their campaigns, fund-raising and supporters in place by then.
But, he admitted, "I was pretty surprised over Mayor Bloomberg's announcement, so my track record of predicting when something is over and done with isn't 100 percent."