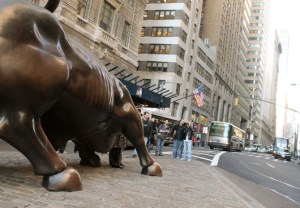 Symptoms of the credit crunch in the Financial District became obvious over the summer, when commercial and residential vacancy rates rose and a slew of new luxury condos spilled onto the market as rentals. Now, signs offering occupants incentives like no brokers' fees and one month's free rent are as plentiful on the sidewalks as camera-toting tourists.
The Financial District has certainly become an apartment hunters' market since Lehman Brothers officially folded just over five weeks ago, on Sept. 15. Elsewhere in real estate, however, the financial crisis' impact remains unclear.
Despite the rash of consolidation and layoffs in the financial services industry, commercial real estate has not changed significantly over the past two months, said Liz Berger, president of the Alliance for Downtown New York, the city's largest business improvement district. No retail outlets have left the Financial District, she said, and the vacancy rate for Class A office space has remained stable since the third quarter of 2008—though it rose to 6.9 percent from 5.4 percent in the same period of 2007. Asking rents increased during the same period, from $51.43 to $57.70 a square foot annually.
"I think it's a mistake to conflate 'Wall Street' as the center of the financial services industry with 'Wall Street,' the main street of Lower Manhattan," Ms. Berger said. "It is too early to write our epitaph."
On the residential front, the Financial District's nascent apartment market is suffering from a drop in demand and a rise in inventory much like the rest of Manhattan. Concessions from sellers and landlords have become par for the course.
"The market is changing now and I've had to adapt to the market," said Ariel Cohen, a broker with Prudential Douglas Elliman. "When you're renting a $5,000 apartment, you are basically asking them to give you about $9,000 in brokers' fees, plus the first month's rent, the security deposit, and the condo board fee. They end up being out of pocket $23,000 just to give them the key."
Last week, for instance, Mr. Cohen said he put 12 previously for-sale condos at 20 Pine Street, where the interiors are by Giorgio Armani and the marketing by Michael Shvo, up for rent at about $65 a square foot, with no broker's fee. Douglas Elliman's Web site currently lists 10 condos at 20 Pine for rent.
Another broker said the developers of a new condo at 95 Wall Street made a similar offer to transfer two months rent to brokers for each unit—usually one month is transferred to the tenant and the rest covers their fees.
Mr. Cohen—who owns a unit in one of Wall Street's first new luxury condos, at 15 Broad Street, and who said he sold or rented over half the units in the building—is still optimistic about the future. "People think, 'Oh, everyone at Lehman and all the traders live there,' which is not the case," he said. "It's all families, young professionals, doctors lawyers."
The inventory of available Financial District rentals dropped briefly in September, but then rose as more luxury condos there turned to rentals, said Daniel Baum, C.O.O. of The Real Estate Group New York. The district's rental inventory, in fact, rose 10 percent in the last month, fueling a mild drop in monthly rents.
Doorman studio rents in the Financial District dropped from $3,103 in September 2007 to $2,606 in September 2008, according to Mr. Baum's firm. One-bedroom rents in doorman buildings remained relatively stable year over year, moving from $3,478 to $3,429, but non-doorman one-bedrooms dropped from $3,471 to $3,041 in the same period. Meanwhile, two-bedroom rents in district doorman buildings dropped from $5,383 to $5,109.
"I would think we are going to see prices decrease in the next two months going forward," Mr. Baum said. "There is just a tremendous amount of product out there."
That's giving buyers more choices–and more time–than they've had in the Financial District in years.
And there are buyers: Condo and co-ops sales started to pick up last week, according to Janice Silver, an executive vice president at Bellmarc Realty.
"I've been a broker for 21 years, and the last month and a half or so has been…," she trailed off. "We had more people [last week] than in the past month or so. I think the people who were holding back for the past six weeks, waiting to buy, came out of the woodwork. People still need to buy because they are getting married, having a baby, getting divorced, or need a bigger apartment. They are starting to realize that prices are decent and it's a good time to buy."
Those who do go to contract are taking much longer to make a decision, Ms. Silver said. A year ago it took anywhere from a few hours to a few days to close a deal; now, a good district apartment with a reasonable price could wait on the market for six to two months before it sells, she said.
Something that is not well-priced won't move. While sellers rarely came down from asking prices last year, said Ms. Silver, these days they are more willing to negotiate.
"You would take a prospective buyer to a new-construction [condo], and there was never a penny of negotiability on asking price, and then the next unit would come on the market at a higher price," Ms. Silver said. "That was standard practice. Now that's not the case. It's not like people can come in and make a crazy low offer because the market is bad. But there is some room to negotiate now."
Relative apartment bargains in the Financial District should continue to materialize, thanks in very large part to the drama that started running on Wall Street five weeks ago.
"A lot of this comes down to how quickly mortgage liquidity and the credit crunch is resolved," Jonathan Miller, president of appraisal firm Miller Samuel and author of a closely watched quarterly Manhattan housing report, said of the Financial District. "But there is nothing to suggest that housing prices would rise in the near future."