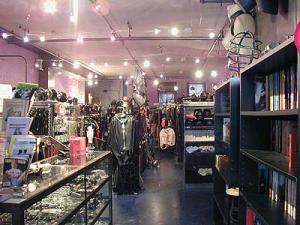 Last week was probably not the most fortuitous time to open a new store in Manhattan. Sex shop Passion opened anyway Sept. 30 on West 14th Street.
After a slow first night, traffic had picked up by the end of the third day of business.
"Stocks may be down, but cocks are up," Tyrone, the manager, said deviously as a few older men and a gay couple perused the merchandise on Oct. 2. "I would have expected to get mostly homosexuals, but we get a fair amount of heterosexual men, too. They always leave blushing."
Not all city sex retailers are as upbeat as Tyrone. Most of the dozen interviewed for this story said that while customers were still buying the basics, they were cutting down on high-end toys, adult movies, and costumes as the financial crisis seeps into the most primal of New York's retail outlets.
At least half of the stores visited have introduced specials to spur more shopping.
The Blue on Eighth Avenue between 21st and 22nd streets is offering a buy-two-get-one-free DVD special, said salesman Assaf. "We are trying to listen to customers and give them deals," he said. "Other than that there hasn't been a change. Everyone still needs condoms and lube. It's like food. You can't stop buying milk."
One of The Blue's competitors on 18th Street and Eighth Avenue–the adult video store formerly known as Passion–is also offering a buy-two-get-one-free DVD deal. "It just looks better," said the store's manager Danny, of whether the promotion has boosted film sales.
He began to notice customers scaling back around the same time the government bailed out Fannie Mae and Freddie Mac and sales of adult movies and toys slowed, but demand for "things that are needed on a daily basis," like "lubricant, condoms, and cock-rings," remains strong.
"Don't forget, this is the gay community," Danny said. "Most of them have different lifestyles, two incomes and no kids. So they are still going to spend."
EVEN IN THE CITY'S TRADITIONAL family neighborhoods, retailers said that contraceptives–along with cigarettes and beer–are among the only items that continue to sell at the same levels of a few months ago.
Sam's Market on 103rd between Broadway and Amsterdam avenues was one of many bodegas and small grocers that has seen sales plummet almost across the board since well before the Wall Street crisis, as customers cut back on everything from candy bars to lottery tickets.
"Business is so sad right now," said Sam's Market manager Sebastian. "We always thought the candy and grocery store business was recession proof, but even coffee and soda people are spending less on. The only thing people are buying more of are condoms and vitamin supplements," he said, pointing to a $2 package of Stamina RX, a "maximum sexual stimulant." "Guess people are staying home more."
If so, they are most likely making due with last season's accessories, because high-end adult boutiques appear to be feeling the drop in consumer spending more than their porn-and-prophylactic-centered counterparts.
"Business is booming because everyone is having sex because they're unemployed," deadpanned Hilton, the owner of the upscale Chelsea boutique Purple Passion. "No, actually, business is down. About a year ago sales slowed down, and in the past three months things have really dropped."
Customers are still buying vibrators and toys, Hilton said, but he could not remember the last time he sold one of the elaborate corsets that run $500 to $600, or one of Vanson's custom-made, leather motorcycle jackets that retail for around $800.
He attributes the decline more to a drop-off in Euro-wielding tourists than to the tumult a couple of miles away on Wall Street–though Purple Passion still saw a fair amount of British visitors over the summer because "their money is worth three times as much here," Hilton said.
IT APPEARS THE SEX services industry, including escorts and dominatrix trainers, has been hit hardest of all by the economy's collapse, according to Master R (the name on a business card), the owner of La Domaine Esemar, the world's oldest BDSM (an acronym for Bondage and Discipline, Dominance and Submission, and Sadism and Masochism) training "chateaux," located in upstate New York.
La Domain Esemar has trained at least 250 couples and about 2,000 individuals from across the socioeconomic spectrum over the past 15 years, Master R said. A basic, 60- to 90-minute session with a domatrix or master at La Domaine costs $300, but, depending on a client's particular "needs and wants," training can cost "thousands." La Domaine has never been "a paradigm of capitalism," Master R admitted, and will often give free training to customers who cannot afford it.
Clients include "tons of CEO's," and "local people, everyone from the truck driver to the governor," Master R said, before quickly explaining he was speaking metaphorically and not about former Governor Eliot Spitzer. Though La Domaine has not felt the immediate fall-out from Wall Street's collapse, locals have been slowly trickling away for the past two or three years, as higher gas prices and living costs force them to forgo non-"necessities."
"We see a lot of uppercrust from our region, and powerful business people from around the country," Master R said. "The real uppercrust [is] still coming. It's the school teachers, correctional officers, city employees that have really slowed down."