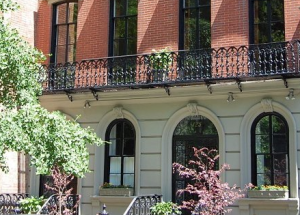 When the asking price of luxury real estate falls in New York, it makes a very big sound. It's the sound of brokers screaming.
This week alone, a hip couple's downtown townhouse was listed for $13.85 million (down from $18 million and then $15.5 million); a billionaire's loft went from $37,500 per month to $29,000; a casino magnate's $35 million 15 Central Park West spread went to $31.5 million; an old Ron Perelman mansion dove from $40 million to $35 million; and a duplex belonging to a surgeon and a Barnard trustee (who doesn't like talking about her real estate) went from $39.9 million to $34.5 million. It had once been listed for $47.5 million.
As if that weren't enough, the Anglo-Italianate townhouse at 123-125 East 10th Street just went down to $12.9 million, even though it had already plunged from $19.5 million in May to $17.8 million, then $16.8 million, then $15.9 million, then $14.9 million.
What does all that mean? It means that if you're a very rich New Yorker trying to sell a very expensive New York house, you should be nervous.
Update (5:40 PM): Even Lenny Kravitz got in on the fun.