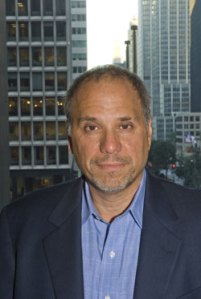 Why so glum? We know. It's been the worst real estate year in recent memory. But didn't Papa ever tell you there's opportunity in disaster? It's just like what HSBC's pervasive ad campaign says: It's all about your "point of view." Where some see chaos, others see opportunity.
Those "others" come in two sizes. First are the small regional banks that you've probably never heard of. And then there are the big guys, the ones forming funds with the sole purpose of originating new debt.
Let's start with the small fry: $3.8 million, the average size of a loan from New York Community Bank, is not, at first blush, an impressive number in New York City real estate. According to Massey Knakal listings, it can buy you a five-story walk-up apartment building on Avenue B, or a gas station on 21st Street in Long Island City. But cobble together a bunch of those little loans, and now you're on to something, from both a buyer's and a lender's standpoint.
Community Bank CEO Joe Ficalora—who, by the way, has been at the bank for an astonishing 43 years—said that so far this year, the bank has made $4.4 billion in loans, mostly for multi-family, rent-stabilized buildings. And Mr. Ficalora expects that the bank will issue more than $6 billion in commercial loans next year.
"We will see increasing need for loans, because there will be fewer lenders willing to lend on what are known as multi-family buildings," said Mr. Ficalora, who was kind enough to speak with us, despite being stricken with pneumonia.
In fact, aside from Fannie and Freddie—which are still chugging out multi-family loans thanks to that government takeover—banks like New York Community are the new stars in an otherwise dark commercial real estate lending firmament.
"The life companies in general are lending; they're just more conservative on what they underwrite," said David Webb, senior managing director at Cassidy & Pinkard Colliers. "Then you have the banks, who are the big lenders today. … People will go to banks for deals they never would have gone to before."
"Previously, you would have gone to a conduit, to a life company, frankly, to bridge the situation, since banks are three-to-five-year lenders, and the conduits were more competitive on rate," Mr. Webb said.
Indeed, New York Community now shares the stage with the likes of the western New York-based M & T Bank, where Sam Giarrusso heads up the New York and Long Island division; the Jersey-based Oritani Savings Bank, whose commercial lending is largely handled by Joe Laquidara; and the Brooklyn-based Dime Savings Bank of Williamsburgh.
Of course, it's not like community banks are gushing cash à la Lehman Brothers during the recent boom. They don't much like making loans for on-spec office space or condo developments. Hotels aren't too popular, either. But for multi-family properties, you're as close to golden as you're going to get in this somnolent market.
"It's definitely slowed down, but we're still doing a decent amount of multi-family stuff, bread and butter, and that's New York savings banks and Fannie Mae and the like," said David Rosenberg, managing director at Meridian Capital Group.
But enough with the bread and butter! What about the big bucks, the ones that grease the trades in billion-dollar buildings?
"There are several new funds that are coming up or trying to raise money to replace banks and life companies and conduits that are no longer there," Mr. Rosenberg said.
Among them is a new financial firm called Ladder Capital, headed by Brian Harris, formerly in charge of global commercial real estate for UBS. Ladder intends to originate loans for a broad spectrum of assets, from multi-family to hotels to office buildings. And it's not alone.
Howard Michaels, chairman of the Carlton Group, is also in the game. He told The Observer that his firm is "coming out with a $200 million first-mortgage fund, for construction and transitional properties, with an average deal size of $50 to $100 million."
"For sure, borrowers are dealing with smaller lenders, because there ain't no big lenders," Mr. Michaels said. "The problem with the market right now is there is very little first-mortgage money."
Meanwhile, the California State Teachers Retirement System, which has been a big investor in commercial real estate, is looking into various "debt vehicles but have not committed to any of them," according to spokesman Ricardo Duran.
Could these new funds and firms be the next generation Bear Stearns and Lehman Brothers?
"That's how they came into being," Mr. Rosenberg of Meridian Capital said.
One thing's for sure. This vacuum of heavy-hitter first mortgages cannot persist. As Massey Knakal chairman Bob Knakal put it, "Something has to step in to fill that void."
drubinstein@observer.com