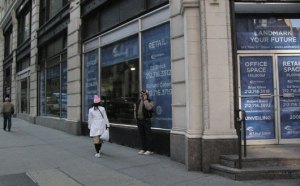 Call it the Bermuda Trapezoid of Manhattan retail, a four-sided vortex into which storefronts disappear, never to be tenanted again.
A full half of the eight corners of the four-sided shape bounded by Broadway, Eighth Avenue, and the north and south sides of 57th Street have sat empty for at least six months, staring vacantly at passersby with nary a product to sell.
"No one can think of an area in New York City that has more space available in that close proximity to one another," said Brad Mendelson, an executive director at Cushman & Wakefield.
Most prominently, there is the retail space at the foot of the glamorous Hearst Tower, at the southwest corner of 57th Street and Eighth Avenue, which has sat vacant since 2006. Insiders say Hearst is vying for an upper-crust tenant like Prada or Gucci, but is only getting interest from lower-brow retailers like Duane Reade.
"We are seeking upwardly moderate to better quality tenants interested in selling women's apparel, cosmetics and home furnishings," said Paul Luthringer, vice president of the Hearst Corporation, in a statement. "We have 2,000 employees working everyday on stories about fashion, food and home furnishings. There will ultimately be a brand that we find which fits that niche. Until we do, we can be selective."
What Mr. Luthringer calls selective, others call "difficult." The media giant, apparently frustrated with its inability to get a suitable tenant willing to pay $400 a square foot annually for the 12,360-square-foot space (a whopping $4.9 million a year), recently switched brokers midstream, tossing out Cushman & Wakefield in favor of its archrival CB Richard Ellis. We wish the new victim luck.
Across the street from the Hearst Tower, at the southeast corner, sits 250 West 57th Street, where space, according to Cushman & Wakefield, has been on the market for a good half-year. The landlord, W&H Properties, is asking $400 a square foot for the 19,180 square feet on the ground floor, which comes to an impressive $7.7 million per annum. On the northeast corner, at 3 Columbus Circle, the space that used to house CompUSA has been on the market for nearly a year, ever since the electronics giant went bust. Meanwhile, the ground floor of the Argonaut Building at 57th Street and Broadway has sat empty for nearly a year. The landlord there is asking $375 a square foot for the 11,000 square feet on the ground floor, which comes to $4.1 million a year.
Ed Brock, who is marketing the Argonaut Building space for GVA Williams, said a bank has a lease out for about 5,000 square feet on the ground floor, and it's not one of the banks that's taken a hit. Here's to hoping that lease gets signed.
Some aren't so optimistic. The Shops at Columbus Circle may be successful, but there's very little spillover effect. And there isn't exactly a surfeit of big-box tenants in the market right now.
"Listen, who's going to take all these spaces?" said a prominent retail broker. "There is a ton of freaking space out there. I don't know who's going to go there. These spaces have been shopped for years, and before the market got as bad as it is today."
drubinstein@observer.com