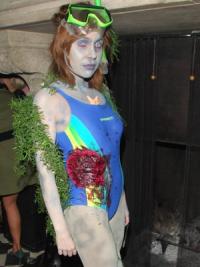 Irina Aleksander called around to find out the costumes prominent New Yorkers are wearing this Halloween. Celerie Kemble's going to need a lot of hairspray!
Ms. Aleksander also moseyed down to Diane von Furstenberg's meatpacking district store, where the fashion empress was throwing a party for Paper mag's Kim Hastreiter's new book about Geoffrey Beene.
And Spencer Morgan rang his old friend Chris Wilson to find out the real story behind his scandalous tale of sexual deviancy on board an American Airlines flight. It's, uh, not what you think!